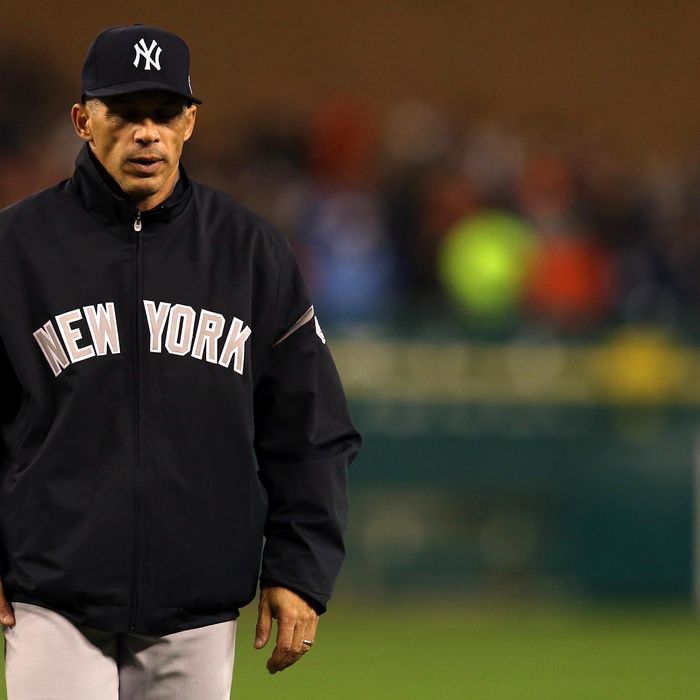 Say what you want about Joe Girardi, but over his five seasons as Yankees manager, he's been pretty predictable. He likes his lefty-righty stuff out of the bull pen with clearly defined roles for his relievers. He likes bunting in certain situations to move runners over. He likes to look at a hitter's history versus a pitcher when there's a decision to be made in the lineup. (Binders full of matchups!) Some call this overmanaging, but it's more like the Yankees have been run by a computer that's been stuck on the "overmanage" setting. Once you knew what to look for, you could often anticipate Girardi's decisions, whether you agreed with them or not. That is, until this postseason. During these playoffs, he's been out of control.
Girardi swears that some of the moves he's making don't indicate that he's panicking, but that's laughable. Consider the way he's handled Alex Rodriguez this October. A-Rod, obviously, is no longer the player he was in his prime. But when healthy, he'd been this team's unquestioned starting third baseman from 2004 through the end of the 2012 regular season. But as we wrote the other day, Girardi appears to be among those who believe A-Rod can't be trusted in October, because he's had him on a short leash: Girardi pinch hit for A-Rod during the ninth inning of just the third game of the postseason. It paid off then because of Raul Ibanez's miracle home runs, but it hasn't worked recently: In the five games since then, Girardi has pinch hit for A-Rod twice and kept him out of the starting lineup altogether twice. In all of those games, Eric Chavez took his place, and Chavez is 0-for-14 during the playoffs. Meanwhile, there's no telling what all of this embarrassment has done to A-Rod's psyche, let alone what kind of damage has been done to the relationship between A-Rod and his manager.
It wouldn't surprise us, by the way, if Girardi had A-Rod back in the lineup tonight, even against a righty starter. After all, Chavez has been struggling at the plate, and Girardi has been basing decisions on extremely small samples and generally operating in a way he wouldn't in the regular season. If that's not panicking, then we don't know what is.  He's in a tough spot, to be sure: When a team is struggling this much at the plate, it's not really the manager's fault, and there's little he can do to fix it. Unfortunately, Girardi is trying anyway, but since that Ibanez home run, he's only made things worse. He's trying to manage his way out of this rather than simply putting his best team on the field.
Consider the decision to start Brett Gardner last night and sit Nick Swisher.  TBS's Ernie Johnson explained that Girardi "wasn't set on adding [Gardner] to the postseason roster until he knew he could hit." Gardner, you'll recall, had been on the disabled list since April and had all of three regular-season at-bats with the team since coming off the DL. In reality, Gardner's role on the postseason roster was as more of a pinch runner, which is reasonable enough: He might be rusty at the plate, but he still adds an element of speed to the bench. And on Friday, prior to Game 5 of the ALDS, when asked whether he considered any other moves beyond sitting Rodriguez, Girardi admitted that it wasn't fair to Gardner to ask him to start — and thus bat — because he hadn't played much. Four days later, Gardner was in the starting lineup in place of Swisher, whose role as a starter hasn't been in question for years. What changed in between? Well, Gardner did get one at-bat over the weekend, after entering Saturday's game as a pinch runner. He grounded out to end the game. 
Or take the ninth inning of last night's game: Girardi tried to squeeze another dramatic hit out of Raul Ibanez, even if it meant letting him bat against the left-handed Phil Coke. Yes, Ibanez homered off a lefty last week to win a game against Baltimore, but that was an awfully rare occurrence: He hadn't taken a left-handed pitcher deep in 442 days until then. This year, Ibanez hit .197 in 65 plate appearances with an OPS of .492. Last year, he hit .211 against them with an OPS of .585. Girardi understood that if he'd, say, brought in A-Rod to bat last night, Jim Leyland would have countered with a righty. But he could have also called on the switch-hitting Nick Swisher, who was on deck when Ibanez struck out to end the game. Girardi had options, but he decided to let Ibanez bat against the lefty while leaving hitters he trusted as recently as a week or two ago on the bench. Would he catch shit from fans for putting in the struggling A-Rod or Swisher, especially if it didn't work out? Yeah, probably. But he shouldn't care about that. If you're going to give Girardi credit (even reluctantly) when a ballsy late-inning move works, then you also need to call him out when a late-inning move (or the lack thereof) doesn't work.
Yesterday's lineup shuffle wasn't entirely Girardi's call: Via the Times, those decisions were made collectively among Girardi, Brian Cashman, and the coaching staff. But it was apparent before last night that Girardi had lost faith in his team, and he can't manage his way out of this mess. (Perhaps he's even justified in losing faith in these players, though in that case, the Yankees have much larger problems in terms of roster construction.) If — or let's be honest, when — the Yankees lose this series, it won't be Girardi's fault. But he's certainly been a big part of how this postseason has played out. The past couple of weeks have changed the way we view him as a manager, and not in a good way.