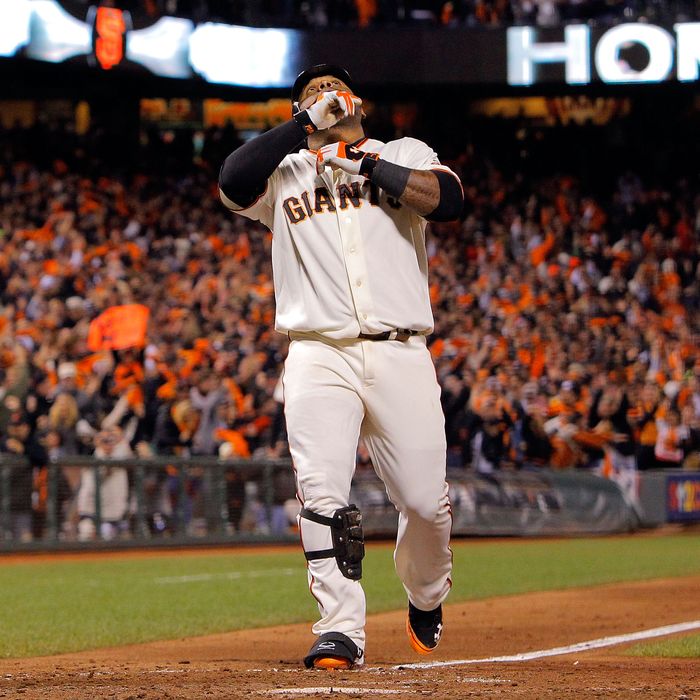 Pablo Sandoval, after homer No. 3.
Last night, in game one of the 108th World Series, Pablo Sandoval became just the fourth player in history to hit three homers in one Fall Classic game. And in doing so, he joined some pretty impressive company. The three men who'd accomplished the feat going into last night's game? Babe Ruth, Reggie Jackson, and Albert Pujols. Two of Sandoval's homers came off Tigers ace Justin Verlander, who's now 0–3 with a 5.14 ERA in three World Series starts, with the other coming off reliever Al Alburquerque, who, incidentally, was central to the best Tweet we'll read all week. (In case you've forgotten, that Tweet is in reference to this memorable Mike Francesa moment.)
The Giants took game one, 8–3, with Barry Zito throwing five and two-thirds innings of one-run ball and helping his own cause with an RBI single. (He heard the chants of "Barry, Barry" that have not been used in San Francisco since, er, Barry Manilow last performed there?)
Anyway, here are all three of Sandoval's homers:
As Verlander could be seen saying on the mound after the second one: Wow.