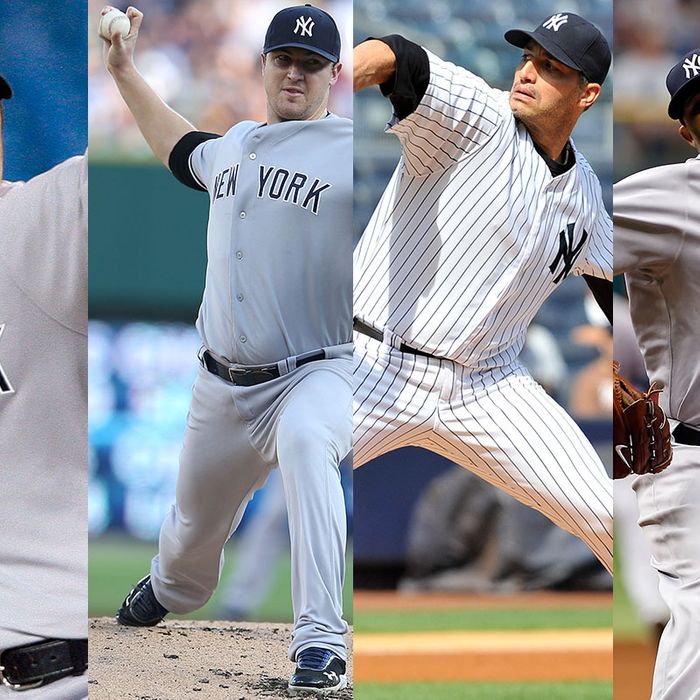 Hiroki Kuroda, Phil Hughes, Andy Pettitte, and CC Sabathia.
As the team with the best record in the American League, the Yankees will face the Wild Card game survivor in the ALDS that begins Sunday and would end a week from tomorrow if it goes the distance. Because of the tightly packed postseason schedule this year, though, games three through five of the ALDS would be played on consecutive days (weather permitting), and the ALCS is set to begin the day after a potential game five. But if that series does go five, whichever team advances would have issues using a traditional four-man postseason rotation. Either someone would have to pitch on short rest in Game 2 of the ALCS, or they'd have to use a fifth arm to start that game.
The members of the Yankees' four-man rotation would seem to be set: CC Sabathia, Hiroki Kuroda, Andy Pettitte, and Phil Hughes, in some order. (Sabathia's the obvious ace, and Hughes would likely be the fourth starter in that bunch.) So here's how the rotation could play out, through the first off-day of the ALCS:
Sunday, 10/7: ALDS Game 1 (Sabathia)
Monday, 10/8: ALDS Game 2 (Kuroda)
Tuesday, 10/9: Off-day
Wednesday, 10/10: ALDS Game 3 (Pettitte)
Thursday, 10/11: ALDS Game 4 (Hughes)
Friday, 10/12: ALDS Game 5 (Sabathia)
Saturday, 10/13: ALCS Game 1 (Kuroda)
Sunday: 10/14: ALCS Game 2 (????)
Monday, 10/15: Off-day
You can swap Pettitte for Kuroda and vice versa in the above scenario, but the Yankees would still have the same issue: If their ALDS goes five games, they (or the team that beats them) would play five games in five days between next Wednesday and the following Sunday. Again, this is only one possible scenario (one that assumes the Yankees win their ALDS and do so in five games), but in that Game 2 of the ALCS, the Yankees would either need to start Kuroda or Pettitte (whichever is designated as the third starter) on short rest, or start one of their other pitchers, like David Phelps.
As Will referenced earlier today, this is hardly the only way the schedule itself could come into play. Jayson Stark has already pointed out on Twitter that if the A's win their ALDS and the other series goes five, Oakland won't know which coast it'll play Game 1 of the ALCS on until after that other ALDS is through. And remember, the ALCS begins the day after that other ALDS ends.
The National League, by the way, won't have either of these problems, unless weather is an issue: The NLCS is set to begin on October 14, two days after a potential Game 5 in one NLDS, and three days after a potential Game 5 in the other.