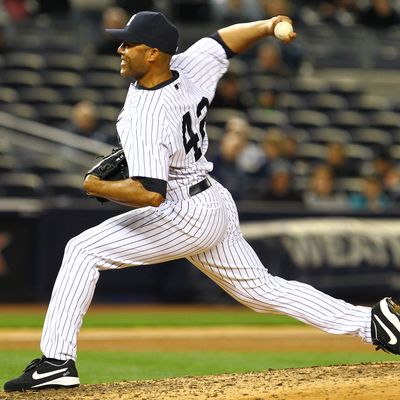 Rafael Soriano's numbers as the Yankees' closer during the 2012 regular season looked pretty good. Here's a quick recap of his stats since taking over as the full-time closer on May 10, a week after Mariano Rivera tore his ACL in Kansas City:
57 appearances, 55 2/3 innings pitched, 2.26 ERA, 42 saves in 46 opportunities (91.3 percent), 1.05 WHIP, 9.2 K/9
Those numbers are rock solid, and even if Mariano Rivera had a unique ability to make his team's fans comfortable in the ninth innings of close baseball games (which is insane, when you really think about it), Soriano filled in nicely, especially considering the circumstances: replacing the best closer ever for the majority of a season.
Just for comparison's sake, here are Rivera's 2011 regular-season numbers, as well as his career regular-season rate stats:
2011: 64 appearances, 61 1/3 innings pitched, 1.91 ERA, 44 saves in 49 opportunities (90 percent), .897 WHIP, 8.8 K/9

Career: 2.21 ERA, 608 saves in 681 appearances (89 percent), .998 WHIP, 8.3 K/9
Obviously, those numbers are incredible, but Soriano's been as good a replacement as the Yankees could have hoped for. The thing, of course, is that Rivera's performance in the postseason blows away even his fantastic regular season performance. Here's our favorite fun fact about Rivera in the playoffs: He's appeared in 32 postseason series (which in and of itself is pretty amazing), and he's only allowed more than one earned run in an entire series once. (He allowed two whole earned runs during the 2000 World Series, both in Game 2.) Granted, he also allowed a very famous unearned run in the 2001 World Series, but still, he's been remarkable in the postseason.
Consider this: In sixteen trips to the ALDS, he has an ERA of 0.32 in 56 innings over 39 games. 0.32! (The round in which he's posted his highest career ERA? The World Series, where it skyrockets all the way up to 0.99.)
It's true that Rivera's postseason save percentage in the playoffs, 89.36, is roughly the same as it is during the regular season. But Rivera can go years without allowing a postseason run: The last one he allowed was in Game 6 of the 2009 ALCS; the one before that came in Game 1 of the 2005 ALDS. And remember, this is while pitching for a team that makes the playoffs virtually every year. Rivera's the all-time leader in regular-season saves, but it's in October where he's truly shaped his legend.
The story of Soriano's 2012 season, as strong as it's been so far, is not yet finished, and the most important chapter still remains. (Remember, advanced analysis has shown that having a good closer is one of the few variables that corresponds with winning playoff games.) Rivera's been an unprecedented luxury over the past decade and a half, and so far the transition to Soriano (well, to Robertson and then to Soriano) has been pretty seamless. But Rivera, somehow, upped his game in October. Now Soriano has to do the same.