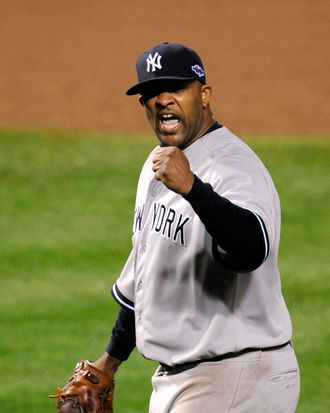 When a baseball team puts a runner in scoring position with nobody out and fails to score, is it because the pitcher worked out of a jam, or because the offense couldn't come through with a timely hit? Oftentimes, your answer depends on your allegiance: There's a tendency to heap either praise or blame on one's own team — to look at an inning, or a game, or a series from a particular perspective.
Sometimes it's informed by history: When the Yankees put runners on first and second with no one out (as they did in the seventh inning last night), one's tempted to blame either their own strategy or their lack of clutch hitting, because they do this sort of thing all the freaking time. (Is this fair to reliever Darren O'Day, who cleaned up Troy Patton's mess in that inning? Probably not. But as a Yankees observer, we've seen that movie before.)
But sometimes, you do need to tip your cap to a pitcher who puts himself into a jam, then escapes without any damage, as CC Sabathia did last night. The Orioles scored twice off the lefty in the third inning last night, but in the fifth, he got out of a first-and-third, one-out situation. An inning later, the Orioles had a man in scoring position and couldn't score. And in the critical eighth inning, Sabathia performed his greatest escape: After a lead-off double, he retired the heart of the Orioles lineup in order.
And remember the situation at the time: With the score tied at two, a base hit from either Adam Jones, Matt Wieters, or Mark Reynolds could have plated the go-ahead run, and while it seems strange to sing the praises of closer Jim Johnson after his ninth-inning implosion, who knows how this game turns out if he starts the inning with a 3-2 lead and a chance to close out the Yankees? The Orioles, after all, have been winning one-run games all year, and a misstep by Sabathia — who struggled in last year's ALDS — could have set them up to win another.
The Yankees are capable enough of scoring runs that if their starter can keep them in a game like this long enough, in theory, they'll eventually be able to break through. And Sabathia was brilliant last night: Getting out of the eighth-inning jam was huge, but there were other innings, of course, where he breezed through the O's lineup without getting into any trouble at all, which helped keep his pitch count manageable. As Will wrote last night, this very much had the feeling of a game the Yankees would lose. With a lesser ace on the mound, they very well might have.