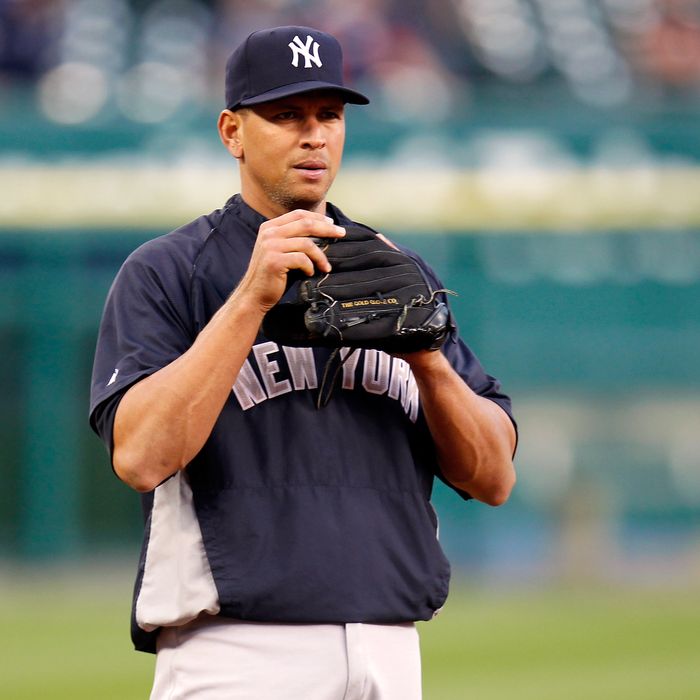 Last night's ALCS Game 4 was postponed until this afternoon because of rain, but before it was, Alex Rodriguez held court and gave real answers to questions about once again being left out of Joe Girardi's lineup. A-Rod isn't exactly the most media-savvy athlete around, so this sort of thing could have gone badly in any number of ways. But you know what? He kind of nailed it.
You can see video of his remarks here, but here are some thoughts on his thoughts:
1. He's not happy with being benched, nor should he be. Joe Girardi has humiliated him this month, and he's done it on a grand stage. From the moment he pinch hit for A-Rod in Game 3 of the ALDS, everything changed, and Rodriguez went from being the Yankees' starting third baseman and a presence in the heart of the order to the highest-paid platoon third baseman in baseball history. He's not totally faultless — his numbers have indeed dropped off in recent years — but he's 37 years old, and that's supposed to happen. The Yankees couldn't possibly have just realized last week that he's no longer the MVP candidate he was in his prime.
And so A-Rod is well within his rights to be bothered by this: "I'm obviously not doing somersaults," he said when asked about being left out of the Game 4 lineup. He has to walk a fine line here: Expressing displeasure without being seen as ripping his manager, and he does a pretty good job of that.
He talked about how he believes the lineup is better if he's in it. And while it might be off-putting to some to hear him say things like that in the midst of a terrible slump, it shouldn't be. Everyone's a dimestore psychologist this month — this blogger included — and so it's almost reassuring to hear that he remains so confident in his own abilities. Said A-Rod: "Anytime I'm in the box, the game can change, and everyone knows that."
2. That said, he admits that some criticism is fair. He makes a distinction between tabloid nonsense and baseball coverage, which is the right distinction to make. So he didn't offer a comment of substance on the New York Post story about him flirting with women in the stands during Game 1, but he admitted that some criticism — which is to say, criticism of his on-field performance — is fair.
He didn't whine about getting booed at Yankee Stadium, and about mostly getting singled out when he's not the only one struggling. You want to get on A-Rod for not hitting? Go for it. But the other stuff? Said A-Rod: "I don't give a shit about that."
3. His relationship with Girardi has changed. This is perhaps the most delicate subject of all of them: What is his relationship with his manager like after being so thoroughly humiliated in this playoffs? Well, you don't need to read between the lines too much to see that's it's changed. A-Rod, smartly, first responded to a Girardi question by saying nice things about his manager: "The one thing I'll give Joe a lot of credit is he's been very good to me over the years. So he has a lot of equity with me."
And when he came around to the second part of his answer, A-Rod kept his composure. He talked about how this is a tough time for him, and how he and Girardi will "disagree there to the end" about whether the Yankees are better off with him in the lineup. He didn't come out and say "I can't believe he's doing this to me, and I'm not going to forget it." He didn't need to do.