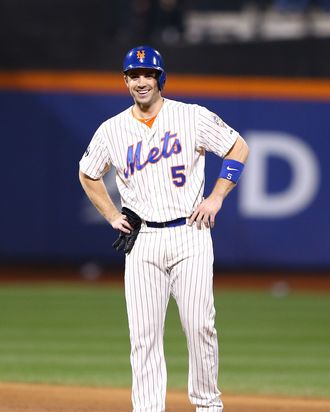 This is David Wright. Say hi, David.
As frustrating as the Mets have been this year — and as hideous as that second half was -—when the Mets season is over, and the long cold winter begins, you will miss them. Baseball when your team loses is still better than no baseball at all. After the Mets game today in Miami, which begins at 4:10 p.m., there will be no Mets baseball until April 1, 2013, a home game against the San Diego Padres. That's a long time from now.
It obviously hasn't been a successful campaign for the Mets, who will finish under .500 for the fourth consecutive season and lose more games than they did the previous season for the second year in a row. During the second half of the year, it was rather impossible to watch them. But that doesn't mean this year hasn't been fun, from a terrific year for David Wright to a potential Cy Young season from the endlessly entertaining R.A. Dickey to the introduction of Matt Harvey to, of course, the season's signature moment, that Johan Santana no-hitter that might, uh, have ruined him for the rest of the year. There have been more positive takeaways than you might think from a team that lost nearly 90 games.
But there is still a ton of work to do in the off-season, and not much money to do it with. But let's leave that for another day. We have all winter to chatter about the Mets' future, or lack thereof. Right now, there is just one baseball game for the Mets to play, one game with Mets players wearing Mets uniforms, until there are no more for a long, long time. We sort of miss them already.