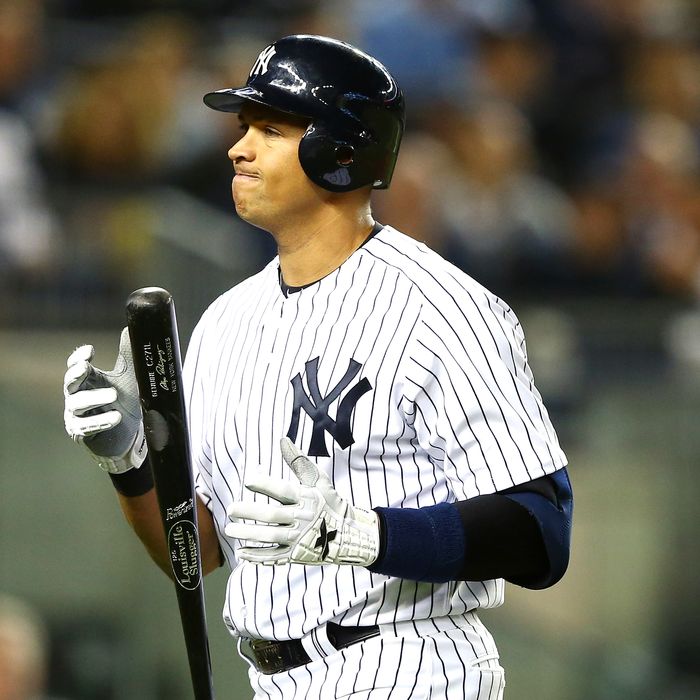 The idea of "trading" Alex Rodriguez is a ridiculous one for several reasons, not least of which is the notion that the team seems to see it as a punitive measure for a contract that they, in fact, gave him. (And one that no one else would have, which is why they're going to have such a hard time trading him.) We have no doubt the Yankees will still, in fact, try. But let's step aside from matters contractual, or narrative, or front-row flirtatious: Are the Yankees a better team next year if they get rid of A-Rod, either by trading him or (gulp) flat-out cutting him. It's hard to see how.
Let's take a look at the top third basemen in Major League Baseball this year, ranked by OPS.
1. Miguel Cabrera, Detroit
2. Adrian Beltre, Texas
3. Aramis Ramirez, Milwaukee
4. David Wright, NY Mets
5. Chase Headley, San Diego
6. David Freese, St. Louis
7. Ryan Zimmerman, Washington
8. Pedro Alvarez, Pittsburgh
9. Alex Rodriguez, NY Yankees
10. Chris Johnson, Arizona
Of those ten players, absolutely zero of them are free agents. The only ones you can even imagine switching teams in the off-season are Wright (and only if the Mets get extremely desperate and don't mind nobody going to their games ever again) and Johnson, who was traded from Houston during their fire sale. Is Chris Johnson better than A-Rod? Is Pedro Alvarez? As much as Yankees fans tried to pretend they were getting Headley when A-Rod got hurt earlier this season, they're not.
The Yankees also don't have any prospects ready either. (Dante Bichette Jr. could reach the bigs by 2014 at the absolute earliest.) The Yankees are angry at A-Rod right now, and he's been humiliated by his manager. He's also talking too much on his own; A-Rod never makes it easy on himself. But as the Yankees try to put themselves in a position to get rid of a guy they're going to have to pay more than $100 million over the next five years anyway, it's worth asking what they have to replace him. And the answer is nothing.