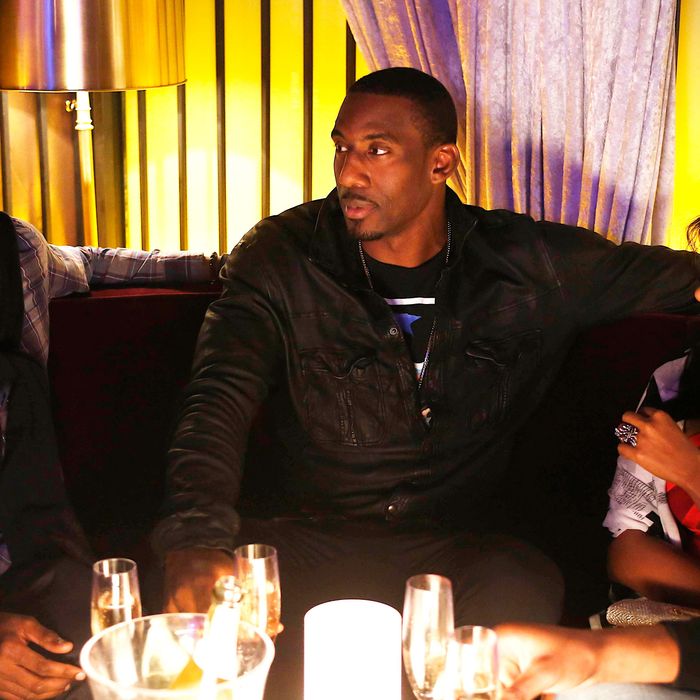 Baron Davis and Amar'e Stoudemire on tonight's episode of The Mindy Project.
For the Knicks, the arrival of autumn means all the practice they put in over the summer finally gets put into action. It also means all the TV appearances they filmed over the summer finally hit the air. Amar'e Stoudemire has one of the longer IMDb pages of any Knick, and he'll be adding to his TV résumé tonight with an appearance on Mindy Kaling's FOX series The Mindy Project. Ex-Knick/still-kind-of-a-de-facto-Knick/filmmaker Baron Davis and Danny Granger of the Pacers will also make cameos on an episode in which "Kaling's gynecologist character goes on an outing with her co-workers to a nightclub, where she winds up hanging out in the VIP section with the three NBA players". It'll air tonight at 9:30 p.m. Here's a quick promo.
Meanwhile, if you'd rather watch Amar'e play basketball than give workout advice to comedy writers, you might want to turn to MSG. The network aired a Knicks Training Camp Live special this morning, providing a live, full-length look-in at today's practice. Since you probably had other stuff to do at 11 a.m. on a Tuesday, MSG will re-air an abbreviated version of the special tonight at 9 p.m.
So, if you're really fiending for some Knicks and can't wait until the start of preseason on Thursday, you've got some options tonight. Whether you'd rather watch them on the court or up in the club is your call.