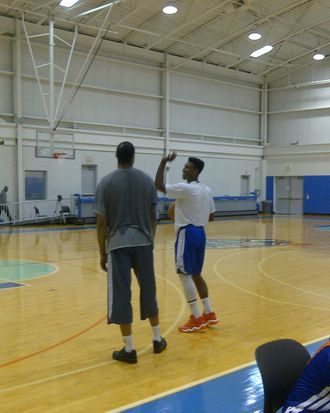 Uncle Rasheed putting awful ideas in the kids' heads.
After a few days at Knicks training camp, the classes within the roster are becoming apparent. While players like Carmelo Anthony, Amar'e Stoudemire, Tyson Chandler, and Raymond Felton are the stars and the floor leaders, they don't feel quite as in command during practice as some other guys acquired or reacquired over the summer. Much has been made of the Knicks' old age — they now employ five players over the age of 35, and Kurt Thomas turned 40 today — and while fans like me are inclined to downplay worries about the geriatric contingent (they're all bench guys, after all), their presence is palpable. Jason Kidd always appears to be in someone's ear (like, he climbs in with his whole body), giving advice. Thomas and Marcus Camby do much of the same, along with quite a bit of playful teasing of New York's young camp invites. It feels like this is a varsity team with a wily group of seniors or like a bunch of weird uncles moved into the family home. They're everywhere, and even if they have to skip some drills and hit the locker room early for massages, they appear to be making an impact.
Enter Rasheed Wallace. After a prolonged, inexplicable delay, Wallace finally signed his non-guaranteed deal with New York on Wednesday, beginning what is essentially a three-week tryout. Today marked Wallace's first NBA practice in more than two years. He was off the floor by the time media were allowed into the gym but soon reemerged from the locker room in a baggy, sweat-drenched T-shirt and his signature calf-length leg garments (neither "shorts" nor "pants" quite fits, and they're not capris. They're just not). 'Sheed came out and shot some jumpers with the rehabilitating Iman Shumpert — an activity that gradually turned into 'Sheed schooling Shump in the art of the left-handed three-pointer (a favorite of his), pictured above.
Basically, if the Knick veterans are a bunch of team uncles, then Wallace is the wacky, off-kilter uncle here to sneak the youngsters sips out of his flask and tell them inappropriate stories about his college days. Every family needs one. Whether this one can hang around past the preseason remains to be seen.