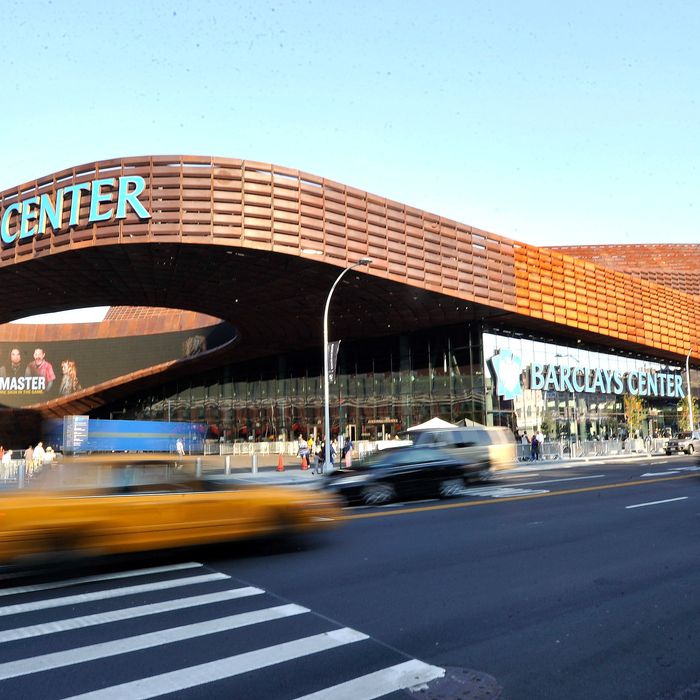 No game here tomorrow night.
The NBA had announced last night that tomorrow's Nets-Knicks game — the first regular-season contest at Barclays Center — was on, despite the effects of Sandy on the area. But there's been a change of plans, and the game has reportedly now been postponed. (Greg Anthony was actually the first to break the news earlier this afternoon.)
Frankly, we couldn't believe the NBA had intended to go ahead with the game. Fans have been told for months that they should take public transportation to the arena, and that they shouldn't even think about driving. Barclays Center has been playing up all the subway lines that service the arena, but as of last night, all lines were shut down, and only partial service could be restored tomorrow. Suddenly, Brooklyn Borough President Marty Markowitz was encouraging fans, if the game was on, to take buses and … carpool. It would have been a total shitshow — unless everyone just stayed home, which isn't exactly ideal either.
The fact that Barclays Center is so accessible by public transportation is a wonderful thing … as long as all of said public transportation is operating. That won't really be the case tomorrow night, and as much as this ruins the Nets' big night, they have little choice. Unless the NBA does some rescheduling in which the make-up game is still the Nets' home opener, this sucks for folks who spent lots of money on tickets, expecting to see a historic game. But in the grand scheme of things, a postponed basketball game is hardly the worst thing to happen as a result of Sandy.
The Nets' next scheduled home game is on Saturday night, against Toronto. The Knicks, meanwhile, are scheduled to host Miami on Friday and Philly on Sunday. Via Al Iannazzone, Glen Grunwald says that as far as he knows, the Knicks are still "good to go" for their Friday home opener.
Update: In a press conference a few minutes ago, Mayor Bloomberg said that he recommended to the NBA that the game be postponed. He said the Nets' first regular-season game at Barclays Center will now be Saturday night against Toronto.