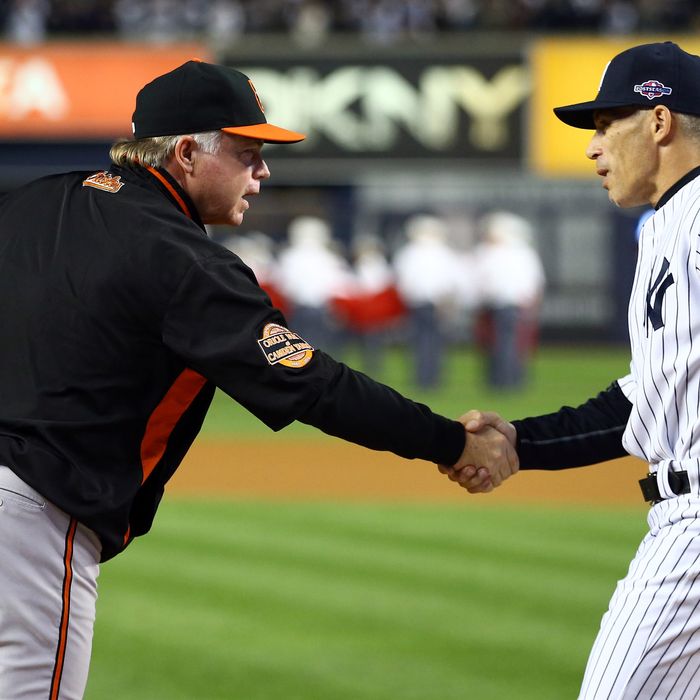 Buck Showalter and Joe Girardi, prior to Game 3.
We'll know in a few hours whether the Yankees will advance to the ALCS or clean out their lockers for the season, but how exactly did we get here? Well, the Yankees won the series opener thanks to a clutch Russell Martin homer and a great outing from CC Sabathia. The weather held up for Game 2, but the Yankees squandered all sorts of opportunities and the Orioles evened the series. Joe Girardi considered dropping a slumping A-Rod in the batting order in Game 3 but didn't. He did, however, pinch hit for A-Rod in the ninth inning, and Raul Ibanez came up big, tying the game with a homer, then winning it with another in the twelfth. (John Sterling got excited, as did Ryan Callahan and Dan Girardi.) For Game 4, the Yankees manager dropped A-Rod to fifth in the order, and though the Yankees got more great pitching, Baltimore would win in thirteen. (Among the Yankees struggling at the plate right now: Robinson Cano, who's normally their most dangerous hitter.) And so, for the second straight year, the Yankees face an ALDS Game 5, and this time, they'll do so without Alex Rodriguez in the starting lineup. But what happened this week that didn't involve revisiting the last Yankees-Orioles playoff series?
The Giants took care of business, eventually, against the Browns.
The Jets lost to Houston.
We looked at just how terrible Mark Sanchez has been this year.
We checked in on the Madison Square Garden renovations.
And we reminded Jim Dolan that NHL players are locked out, not on strike.
That's it for now, but we'll be back after Game 5. And if the Yankees win, we'll be here after this weekend's ALCS games, as well. Have a great weekend.