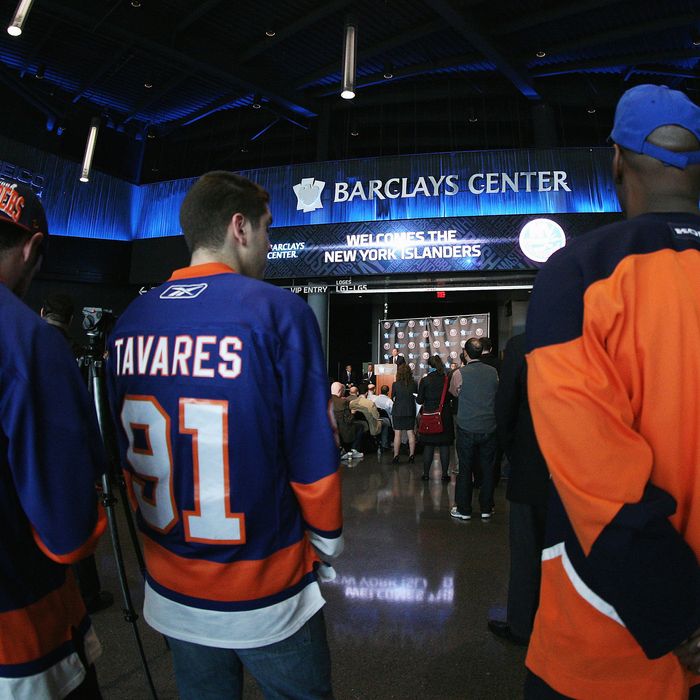 Fans at Wednesday's press conference.
After years of trying to build a new arena in Nassau County, the Islanders this week announced that they're staying in the area but leaving the suburbs for Brooklyn's Barclays Center. Is it a perfect situation? Well, no. The arena, after all, wasn't really designed for hockey. But it's still good news for Islanders fans, who otherwise might have seen their team move a whole lot further away than Brooklyn. In honor of the announcement, we looked back at the 1941-42 Brooklyn Americans — a team that, despite it's name, played its home games in Manhattan. But what happened this week that didn't involve losing a chance to see the funky Barclays Center hockey configuration?
Eli Manning and the Giants pulled off another fourth-quarter comeback.
The Jets lost in overtime to New England.
We learned that the Knicks will start the season without Amar'e Stoudemire. Meanwhile, Tyson Chandler left Wednesday's preseason game with an injury. (Chandler says he'll be ready to play by Opening Night.)
We continued our countdown of the most important Knicks and Nets.
David Stern announced he's going to retire on February 1, 2014.
Brian Cashman said that Mariano Rivera wasn't certain if he'll return next season.
The Giants beat the Cardinals in Game 7 of the NLCS, then beat the Tigers in the first two games of the World Series.
And we chatted with Bill Kent of the New York Baseball Giants Nostalgia Society.
That's it for us. Have a great weekend.