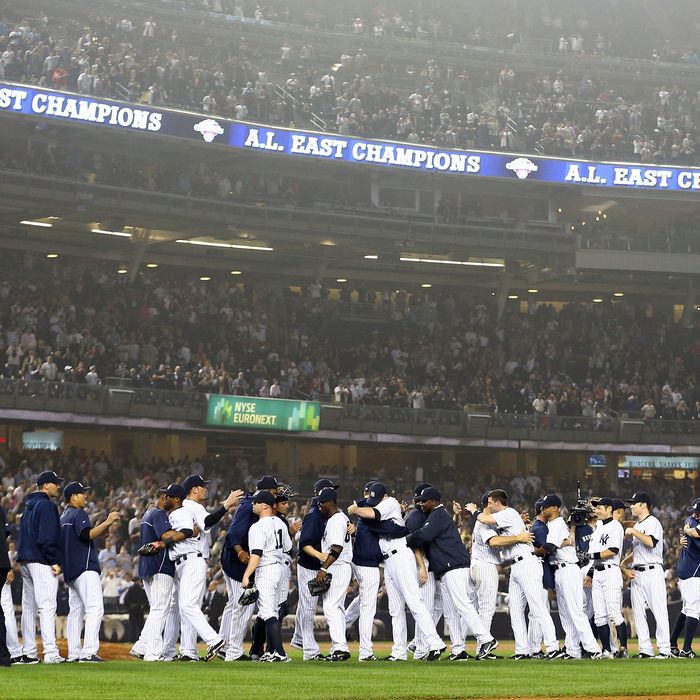 The Yankees, on Wednesday night.
The Yankees clinched a playoff berth over the weekend, but in the era of the scary one-game Wild Card round, only a division crown guarantees a team a spot in the division series. And though it took them until the final game of the regular season, the Yankees did indeed win the A.L. East on Wednesday when Baltimore lost as Joe Girardi's team was finishing up its sweep of Boston. And so now that the ALDS schedule has been released — and now that the ways that schedule could screw up the Yankees' rotation have been analyzed — the Yankees just need to learn which Wild Card survives tonight's elimination game. (It'll either be the Orioles or the Rangers. And no, not those Rangers.) Will's PS3 likes the Yankees over Texas in the ALDS; Will himself likes Texas over the Yankees. But what happened this week that didn't involve life without Mariano Rivera?
The Giants couldn't rally for a win in Philadelphia.
The Jets hit rock bottom again with a loss to San Francisco. So, when does Tim Tebow take over?
We visited Knicks training camp.
The NHL lockout continued, and the league started to cancel real games.
Bobby Valentine crashed his bike. Also, he was fired.
We learned that Cy Young hopeful R.A. Dickey had been pitching hurt almost all season.
We showed you pictures of Mark Teixeira puffing his cheeks, as well as pictures of A-Rod going to town on some sunflower seeds.
And we looked at the rising Atlantic 10 conference.
That's it for now, but we'll be back after the Yankees game on Sunday. Have a great weekend.