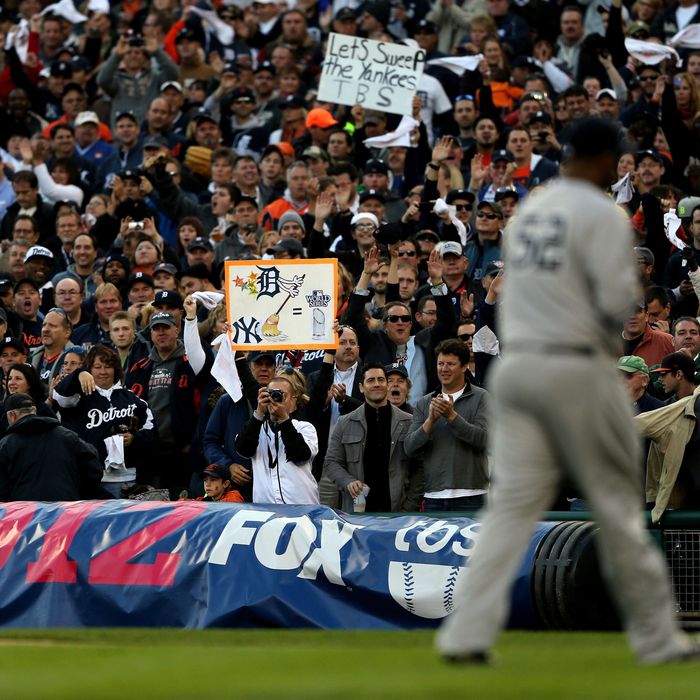 One week ago today, the Yankees beat the Orioles in Game 5 of the Division Series to advance to the ALCS. Will's PS3 was feeling so good about their chances that it predicted that the Yankees would win in four. But the Yankees did not sweep the Tigers. Instead, the Tigers swept them. On Saturday, they'd not only lose Game 1, they'd lose Derek Jeter to a broken ankle. The next day, they'd get shut out, and panic began to really set in. A-Rod was left out of the Game 3 lineup with righty Justin Verlander on the mound, and the Yankees would lose once again. (Though thanks to the New York Post, not all of A-Rod's embarrassment this week stemmed from Joe Girardi's managerial decisions.) A-Rod was once again left out of the lineup in Game 4, and he let it be known he wasn't happy. And then after a postponement Wednesday night, the Tigers put the Yankees out of their misery yesterday, completing the sweep and advancing to the World Series. The Yankees, as a team, hit just .157 during the series, but even worse was how unnecessary this whole circus was. But what happened this week that didn't involve talk of trading A-Rod?
The Giants pummeled the 49ers, while the Jets beat up on the Colts.
We checked out the Nets' first preseason game at Barclays Center.
The NHL lockout did not end.
The USMNT advanced to hexagonal World Cup qualifying.
We kicked off our countdown of the most important Knicks and Nets.
And we chatted with author Jonathon Gatehouse about Gary Bettman's NHL.
That's it for us. Have a great weekend.