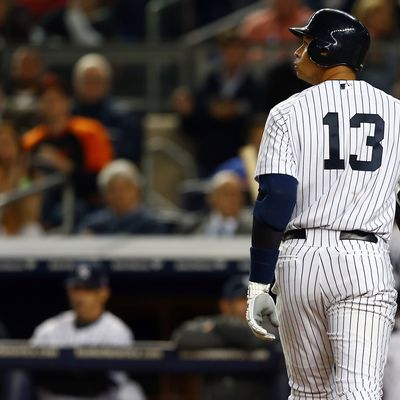 Alex Rodriguez, last night.
One day in the future — maybe not even in the very distant future — when we look at A-Rod's tenure with the Yankees, we'll divide into two phases: before he was pinch hit for in the ninth inning of a playoff game, and after he was pinch hit for in the ninth inning of a playoff game. It was no secret even before Game 3 of the ALDS that A-Rod's best days were behind him: This is a player who won two MVP awards in his first four seasons in New York, and no one's expecting that kind of production from him anymore. His decline has been apparent (and, for a player his age, not unexpected). But last night was a tipping point for a guy who still has five years left on his contract. Last night, everything changed, even if nothing changed. A-Rod remains the Yankees third baseman, but last night was the beginning of the end.
A-Rod began the day as a player that his manager had enough faith in to keep him in the No. 3 spot in the batting order even as the tabloids called for him to be dropped. He ended the day as a guy his manager was willing to pinch hit for in the ninth inning of a playoff game. That's A-Rod now: He's no longer "Alex Rodriguez, feared slugger whose reputation and past achievements earn him the right to hit no matter how bad a slump he's in." He's now "Alex Rodriguez, guy who can be pinch hit for in a key spot."
This wasn't Joe Torre trying to push the right buttons to wake up A-Rod by dropping him in the batting order during the prime of his career. This was Joe Girardi — in his own mind at least — believing that the best chance to win last night was by replacing Alex Rodriguez in the lineup. Torre's lineup move is still talked about six years later, and what Girardi did last night will be talked about for a good long time, as well. Complicating things even further, of course, is that Girardi's move — be it ballsy or insane — totally freaking worked. Worked better than he possibly could have imagined, in fact. And one wonders if that somehow will turn Yankees fans against A-Rod even more.
It remains ridiculous that we have to discuss this, but Yankees fans have long had a complicated relationship with Rodriguez, a player they've watched win two MVP awards. He's routinely booed in his own ballpark (and has been since before his decline truly began). And it seems sometimes that Yankees fans only like him when they absolutely have to, like they did in 2009. The default state is "Prove to us that you're not a bum," and right now, the average Yankees fan doesn't care that it's generally not wise to judge based on small October sample sizes. The fans inside Yankee Stadium last night — maybe not all of them, but a lot of them — think that A-Rod's just a big choker, and he looks even worse compared to the guy who replaced him, who played the hero's part with a pair of home runs. "Why can't A-Rod do that?" those fans surely thought. Whether that's fair or not — and it's not — doesn't really matter. It's not impossible to change fans' perception of you — he did, at least temporarily, with a monster 2009 postseason — but it's not easy.
Eventually, this will morph into a discussion about A-Rod's relationship with his manager, especially considering how much ink was spilled about his relationship with Joe Torre following the 2006 ALDS, when Torre batted A-Rod eighth in Game 4. A-Rod has said all the right things so far, and admitted that he might have reacted differently to something like this ten years ago. Maybe we're dealing with a more mature Rodriguez — one who truly is willing to accept his role, whatever it is. Of course, earlier in this career, this kind of thing wouldn't have happened. But that's sort of the point: A-Rod had to know that a day like this was coming. It didn't have to necessarily come in quite such a high-profile situation, but it couldn't have been a total shock.
In this sense, it probably doesn't hurt that Girardi's move worked: One imagines things would have been a lot more awkward in the Yankees clubhouse if Girardi pinch hit for Rodriguez, Ibanez struck out, and the Yankees went on to lose. TBS had a camera on A-Rod when Ibanez hit his first home run, and he certainly looked pretty damn excited. It's a cliché that it's all about the team and that he just wants to win — clichés A-Rod trotted out last night — but it's also true to some degree. Naturally, A-Rod would have wanted to bat in the ninth, but given the circumstances, it's better to win than not win, and hey, at least the fans who believe he's the biggest choker of all time are in a good mood this morning. The calls to WFAN today would be a lot angrier if the Yankees were facing elimination tonight.
Oh, about tonight: A-Rod, despite what happened in the ninth inning last night, is still on this team, and he'll be getting more at-bats this year and in the years to come. This might be the beginning of the end, but it'll be a long ending: He has five years left on his contract, and being pinch hit for last night — or struggling through three games of an ALDS — doesn't mean he's useless. His OPS of .783 in 122 games this year was his lowest since his early days with Seattle, but it's hardly a disaster. He still has some big swings and some big days in him, even if they'll be fewer and further between as he plays out the remainder of this contract. It'll take just one hit to start to bring fickle Yankees fans back onto his side. A timely home run will earn him even more slack. A big game or a big series turns this into a redemption story that we've seen before: The choker finally comes through. Like we said, Yankees fans seem to only like the guy when they have to. But even at one of his lowest moments as a Yankee, he'll at least get opportunities to change their minds.