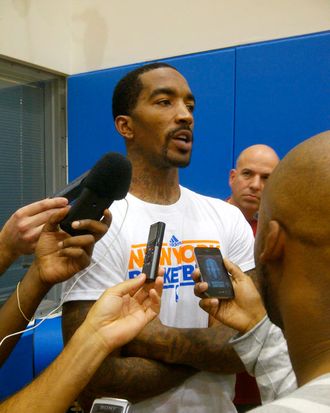 J.R. Smith, speaking to reporters after Friday's practice.
From the sound of things, the Knicks have their first unit pretty much set. Carmelo Anthony and Tyson Chandler are obvious starters. Amar'e Stoudemire, despite fans' pleading, will start at power forward. Mike Woodson named Raymond Felton his starting point guard earlier this week. Shooting guard, it seems, is the only position at which there's uncertainty all the way up to the starting lineup.
A rookie Iman Shumpert settled into a productive role as the starting two last season, but he's out for a few months. The newly signed Ronnie Brewer was a frequent starter for the Bulls last season, but he's missing a crucial first camp under Woodson because of his own knee injury. Who's left?
Well, there's J.R. Smith, who played heavy minutes last season and will most likely start at the beginning of the season. Smith, who returned to practice today after taking a day off to rest a sore ankle, told media that he'd "prefer to start" and that "it gets frustrating" to be perceived as a sixth man, though he wasn't emphatic and sounded willing to accept any role assigned to him. (Another thing he said: "I can't play all 48 minutes. Well, I can play all 48 minutes but it's not gonna happen.") The position will probably be Smith's by default heading into preseason, then his to keep or lose once Brewer (expected back by the start of the season) and Shumpert (hopefully by 2013) return.
Beyond that, it's up to experimentation. Woodson spoke earlier in the week of letting one of his point guards — Jason Kidd in particular — slide over to the two spot at times, and that's a possibility Kidd himself approved, citing some similar experience playing alongside J.J. Barea in Dallas. Meanwhile, James White — the six-foot-seven 29-year-old signed from overseas this summer — has been running with the first unit and camp invite Mychel Thompson (son of Mychal, brother of Klay) has moved well and shot accurately in scrimmages. So, there are some dark-horse candidates for shooting guard minutes as well.
For the most part, this Knicks team is devoid of major position battles, meaning camp and the coming preseason will mostly be about tweaking and filling in the rotational cracks. But with all the injury and uncertainty, the shooting guard situation is relatively up in the air and worth keeping an eye on.