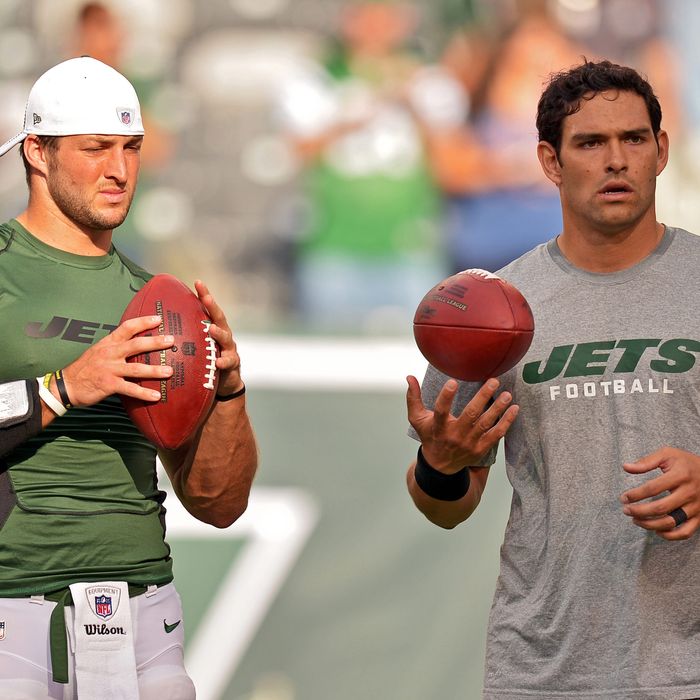 In pretty much every way, the minute the Jets traded for Tim Tebow this off-season, the whole 2012 season became an inexorable march until the moment when he finally took over as the starting quarterback. It instantly was the pivoting point for the Jets, the time when "the thing they said they wanted to be" and "the thing they were" finally traded places. After Mark Sanchez's hideous performance in a 34-0 loss to the 49ers on Sunday, it seems even more inevitable; the way Sanchez is playing, the Jets may have no choice. So, when?
We've said before that the Jets needed to steal two wins from this stretch of San Francisco, Houston, Indianapolis, and New England to have any hopes of dreaming of the playoffs. Coach Rex Ryan said yesterday that Sanchez is without question his guy for this week, so that eliminates this week. But Houston might have the best defense in the NFL, which doesn't bode well for Sanchez.
So, next week then? That seems potentially feasible: Tebow would have a much better chance to win against Indianapolis. Of course, so would Sanchez, and the Jets would be hesitant to risk a must-win game against an inferior opponent (right? The Colts are inferior, yes?) with a new quarterback. But you can't really expect Tebow to outscore the Patriots the following week — if that were his first start — which means now you're already at October 28, which means the calls for Tebow will be so deafening that ESPN might just camp out Sal Paolantonio in Tebow's locker. (And you will have shot yourself in the head.)
It would seem, then, that Tebow is either going to become the starter:
Week six versus Indianapolis, October 14,
Week eight versus Miami, October 28,
Week ten at Seattle, November 11 (after a bye week),
Or not at all.
We're gonna put our money on week eight. The Jets will likely be 3-4 by then — assuming they can beat Indy — and Sanchez will have likely just been destroyed by New England. You give Tebow the start against his home-state team, then take a week so everybody can learn all the new plays you have to install for Tebow because he's so bad at passing the ball. And then we'll go through all this business again. Yippee.