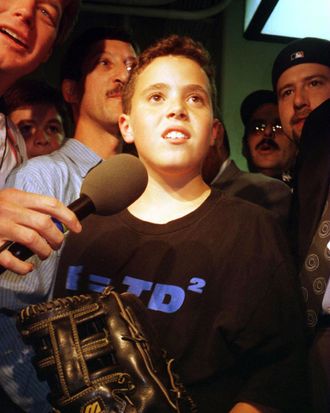 For the last sixteen years, we've held onto a videotape of Game 1 of the 1996 ALCS. See, in the fall of that year, we broke our arm, which required regular after-school doctor's visits. One of those appointments, on the afternoon of October 9, 1996, conflicted with the beginning of Yankees-Orioles playoff series, which had been rained out the night before. And so before we left for school that day — afraid we might miss something important in the days before DVRs and online highlight clips — we programmed our family's VCR to tape the game. As it turned out, we returned home in time for most of the proceedings — but the VCR was still recording during one of the most infamous moments in Yankees playoff history, when a 12-year-old named Jeffrey Maier reached out for a Derek Jeter fly ball and brought it back into the stands for a home run. We've since transferred the game from that dusty old VHS tape to a DVD, so as to preserve this historical document in the digital era. And on the occasion of another Yankees-Orioles playoff series, we decided to give it a watch. With a tip of the ballcap to Bill Simmons for the retro-diary format, here's how that game — played sixteen years ago today — went down.
4 p.m.: After NBC's Bob Costas narrates the introduction, cue the theme song from The Adventures of Briscoe County Jr.!
4:02: Your broadcast team tonight: Costas, Bob Uecker, and Joe Morgan. Prior to the game, NBC shows a replay of Roberto Alomar's Yankee Stadium introduction. Less than two weeks earlier, Alomar had spit in the face of umpire John Hirschbeck, and he's public enemy No. 1 in the Bronx today. Costas explains that there were boos, "but nothing more than that." NBC cuts to commercial, where we see the first "Must See TV" promos of the afternoon. Premiering the next night: the episode of Seinfeld where Elaine dances at her company party.
4:07: Today's Orioles lineup has three future Hall of Famers:
Brady Anderson
Todd Zeile
Roberto Alomar
Rafael Palmeiro
Bobby Bonilla
Cal Ripken Jr.
Eddie Murray
B.J. Surhoff
Mark Parent
4:11: Time for Roberto Alomar's first plate appearance. Among the signs in the stands: "Alomar is De-spit-able" and "Alomar try to hit the bullseye!" with green spit marks. We give them a B and a B-, respectively. Costas tells us that Mayor Rudy Giuliani encouraged fans to turn their backs and respond with silence with Alomar batted. This does not happen. Says Costas: "Booing's okay, as long as nothing comes flying out of the stands as has happened in the past with other visiting players here."
Morgan says he'd been booed louder in his own park. "They're trying to be nice here," he says. Costas replies, "Well, let's say they're tying to be civil. I'm not so sure they're trying to be nice." While Costas explains that fans are trying to be civil, said fans are chanting "ass hole, ass hole" at the Orioles second baseman.
4:13: The Yankees lineup includes two future Hall of Famers, if you count the still-active Jeter:
Tim Raines
Wade Boggs
Bernie Williams
Tino Martinez
Cecil Fielder
Paul O'Neill
Mariano "We Play Today, We Win Today, Das It" Duncan
Jim Leyritz
Derek Jeter
4:41: After a promo for the following day's Game 2, here's Costas being Costas: "If the lords of baseball really wanted to re-capture the feeling of the Fall Classic, they'd play a couple of afternoon games in the World Series. One in each city." He later adds, "We are not holding our breath."
4:45: The Yankees take a 1–0 lead after Baltimore botches its second double play ball of the inning.
4:56: With the score tied at 1, Alomar bats for a second time. NBC shows a sign in the stands that reads "No escupas." Can the booth make it through an entire Alomar at-bat without bringing up the spitting incident. So far, the answer is no. Here's Morgan:
"Bob, I have to commend the New York writers for their stance in this situation. They basically said it's okay to boo, but don't be throwing things. And as we all know, sometimes writers can incite the fans. But they did a good job I think of trying to keep anything from happening, other than booing."
The NBC booth is really afraid fans are going to throw something onto the field. So far, it hasn't happened.
5:31: Alomar bats again. Time for a Bob Costas speech!
"As we said earlier, these fans have thus far been well behaved. Booing is part of the experience. That's fine. Now they're cheering for Pettitte to record the strikeout, ahead of Alomar, 0–2 … Of course the irony is, many Yankee players, of the recent past and of the present, have had their own misadventures. And as long as they were wearing Yankee uniforms, they were greeted with ovations. So it's a very selective morality here, as elsewhere … If he were a Yankee player, he'd be cheered, just as he's cheered in Baltimore. For better or worse, what appears to be the operative philosophy all around sports, almost every city, almost every sport, if's it our player, anything short of a homicide and maybe even that, it's okay."
We suspect this isn't the last Costas will speak on the subject.
6:06: Baltimore takes a 4–2 lead on a Rafael Palmeiro sac fly.
6:19: Alomar's up. Go ahead, Bob:
"In the Division Series, Juan Gonzalez, who was murdering the Yankees, was showered with fruit, coins, batteries. There were ugly incidents in the seventies here in the World Series between the Yankees and Dodgers, in '77 and '78. Lou Piniella pulled the Mariners off the field during the Division Series last year … Ken Griffey Jr. and Jay Buhner complained that objects were thrown in their direction. So some of the New York fans appear to have little acquaintance with the writings of Emily Post and Letitia Baldrige But they've confined themselves to booing today, and that's just fine."
In case he hasn't made it clear: Booing's okay, throwing batteries isn't, and Yankee fans are often just animals. Thank goodness Uecker's in the booth to add some levity:
Ueker: Emily Post?
Costas: These are people who advise you as to etiquette and manners. I thought you of all people would be aware of that, Uek.
Ueker: Wally Post told me everything I needed to know.
6:30: Boggs comes to bat, and Costas praises him as a batter who walks a lot and has a high on-base percentage to go along with a high batting average. Morgan says nothing. If he did speak, he probably would have said, "RBIs, RBIs, RBIs. Runs scored, grit. Pitcher wins. RBIs."
6:54: Jeff Nelson enters the game and records a 1-2-3 inning. Obviously, the Orioles are intimidated after he'd successfully executed an "Old Jeff Nelson" against them earlier in the year.
7:04: Showtime. In the bottom of the eighth, with the Yankees down a run and no one on, Jeter hits a ball to the right field fence. Orioles right fielder Tony Tarasco, who'd replaced Bonilla, goes back to the wall and puts his glove up. You, of course, know what happens next: A young fan reaches over the fence and brings the ball back into the stands, and it's ruled a home run. Tarasco loses his shit. Brady Anderson runs in from center to argue. Armando Benitez, who threw the pitch, runs out from the mound to dispute the call. Baltimore manager Davey Johnson runs out from the dugout, as well. Meanwhile, a few fans throw things onto the field, justifying Costas's earlier concerns about Bronx crowds. Ugh, way to go, Yankees fans from sixteen years ago.
Before the first replay is shown, Uecker praises right-field umpire Richie Garcia for his hustle. "I'll tell you one thing, that's great hustle — great hustle by Richie Garcia," he says. "Right," says Morgan.
7:05: NBC shows its first replay. It's beyond obvious that a fan interferes with the ball.
7:07: Johnson, having been ejected, argues as he walks back into the dugout. The kid who interfered with the ball is now sitting on another fan's shoulders, celebrating. We're informed that the game is being played under protest.
7:18: Jim Gray heads out to the right-field stands to chat with the kid. Here's their conversation:
Gray: All right, we're out here in the outfield. Can you tell us what you did? What's your name, son?
Kid: Jeff Maier.
Gray: Jeff, you stuck your mitt over and caught the ball. It's the difference in the game right now.
Kid: [Smiling.] Wow, it's pretty unbelievable, and I didn't think it would ever happen to me.
Gray: You didn't get to keep the ball — you lost the ball, didn't you?
Kid: Yes, unfortunately.
Gray: What's going through your mind right now. You're the hero of all of New York, and to the Yankees. You weren't even involved in the game. Now, all of a sudden, you've had such a big impact.
Kid: It's just unbelievable. And I feel like something amazing has happened. I can really think of anything much else to say.
Gray: They're chanting your name. Pretty exciting, isn't it?
Kid: Yeah, it's pretty cool.
Gray: All right let's go back to Bob Costas.
We give Costas credit here, since he rightly mentions that not everyone would use the word amazing to describe that sequence of events:
"Well, that's one perspective. But Jeff Maier, even if he were of age, certainly couldn't be elected mayor of Baltimore right now. He's an innocent kid, who was excited to reach out and have a chance to catch a baseball at a big-league game. Looks like he's 12, maybe 13 years old. You can't blame him, individually. But you don't want fans involved in affecting the outcome of the game. And what happened was very unfair to the Baltimore Orioles."
7:25: Morgan: "If something like this happened at the Boston Gardens, they would say, you know, it was the luck of the Irish."
7:30: The game continues. Alomar bats. Costas brings up the Hirschbeck incident. Everybody drink!
7:42: With the score tied at 4, Mariano Duncan hits a ball into the right-field corner. It's a foul ball, but it's unclear whether a fan reached over and interfered with this one as well. Says Uecker: "I think it's that Maier's cousin."
8:23: Alomar bats in the eleventh inning, and no one mentions the Hirschbeck incident.
8:30: Clearly sensing that the NBC booth is out of things to talk about, Bernie Williams leads off the eleventh with a game-winning homer off Randy Myers. NBC viewers can finally watch the episode of Wings that the network has been promoting all night.