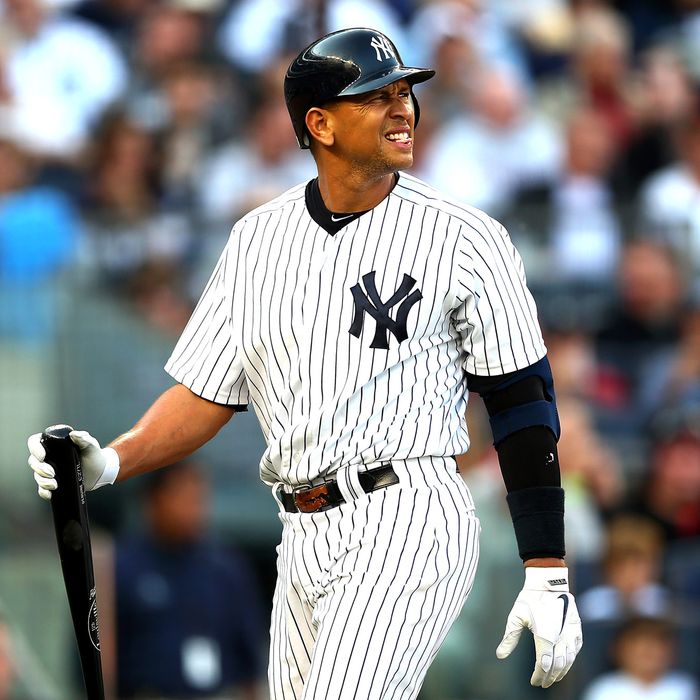 It's not just you, A-Rod.
In our 13 years of living in this city, we have been, according to our ESPN Passport checkins, at Yankee Stadium (both of 'em) 67 times. (The Yankees' record over those 67 games is 45-22 over that time, by the way. You're welcome.) That's a lot of games, a lot of dull ones, a lot (more) electrifying ones and even one witnessing of a World Championship. But we think can say with 98 to 99 percent certainty that the atmosphere at Yankee Stadium this afternoon was the worst of any of those 67.
It wasn't the quietest, even though it was yet another postseason non-sellout. It wasn't the rowdiest, even though the 4 p.m. start on a Sunday would seem to lend itself to proper pregame libation. (It works in the NFL.) It wasn't the angriest, even though there were certainly boos, if halfhearted ones. It was just the worst, because it was the most apathetic. Maybe it was the shock of losing Derek Jeter last night, maybe it was the new Stadium's costly tickets pricing out the most loyal fans (the most common explanation when we asked people) or maybe it was because the Yankees were so miserable to watch that no one could muster up the energy to do much of anything. That last one makes as much sense as anything else. It really does just come down to blame.
The Yankees lost 3-0 to the Tigers in Game Two of the American League Championship tonight, falling behind 2-0 before what will surely be a long, silent plane ride to Detroit for three games starting Tuesday. The Yankees didn't catch many breaks, particularly with a terrible call by second base umpire Jeff Nelson in the eighth inning. But when you hit like the Yankees have hit, you really don't get to complain about anything. You can only blame yourself.
Not that they didn't have a case in the eighth. Pinch hitter Avisail Garcia knocked a two-out single, and runner Omar Infante sneaked past second base just long enough for Nick Swisher to throw behind him for the out. But Nelson missed the call, and by miss it, we mean miss it: It was an obvious, how-could-he-miss-that call that ultimately led to two more Tigers runs, giving them a 3-0 lead. Joe Girardi was so (justifiably) angry about it that Nelson ejected him, which meant that Tony Pena was the lucky winner of the use-four-pitchers-to-get-one-out game. But you can't blame Nelson.
That 3-0 lead felt like a massive lead, because the Yankees absolutely cannot hit right now. It's difficult to overstate just how bad the Yankees offense has been. Let's do a little back-of-the-napkin match. Look at these five players: Alex Rodriguez, Robinson Cano, Nick Swisher, Curtis Granderson and Eric Chavez. Those are five pretty good hitters, and this postseason, they've been dreadful. Not just dreadful: Downright historic. The five men are a combined 12-for-118 in the postseason with one home run and 44 strikeouts. That is difficult to do even if you are trying. A-Rod is bringing in all the boos – and it does seem like every time he comes to the plate, he's down 0-2 before the at-bat music is even done playing – but Cano is the one setting records for futility. He is now 0-for-his-last-25, which isn't just bad; it's the worst hitless streak in postseason history. You can't blame A-Rod for that one.
The tire fire on offense distracted from a masterful outing by Hiroki Kuroda, who took a perfect game into the sixth and struck out 11. He should have given up only one run, had it not been for Nelson's call. Kuroda cannot make the Yankees score runs. You can't blame Kuroda.
You have to blame the whole offense, which has imploded at the worst possible time in the worst possible way. The Yankees are now down 0-2, without Derek Jeter, with CC Sabathia only pitching once, with an offense that seems constitutionally incapable of scoring. You're going to hear lots of talk in the next few days about the poor Yankee Stadium crowd, the lack of sellouts, the bad vibe going around. But the Yankees hitters just flailed around blindly for three-plus hours yesterday. It was hideous to watch. What fan would want to pay money to see that, ALCS or no? You can't blame the fans. With the Yankees on the brink, already, they can only blame themselves. You have to wonder if this team will make it back to The Bronx for a Game Six. Enjoy the day off tomorrow. You will not see a single Yankee strike out.
Oh, and you won't have to see this guy's ass.