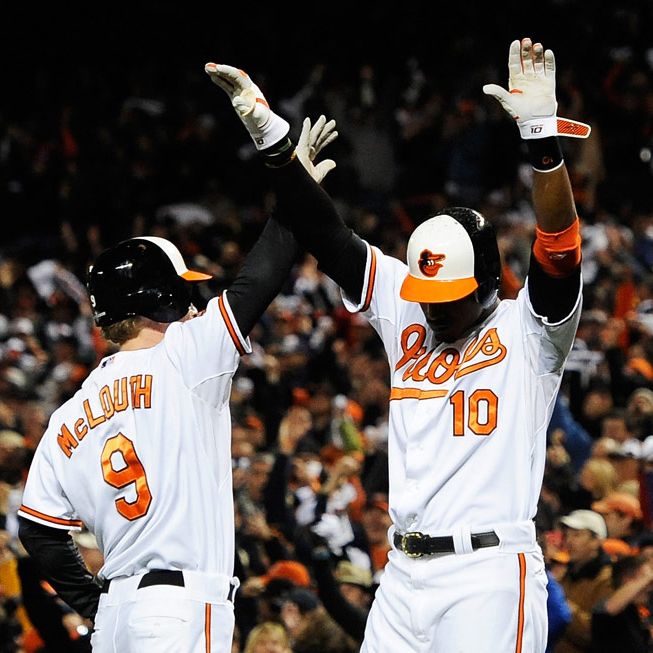 The postseason doesn't really begin until you lose a game — unless of course you're in the new weird wild-card game — so now the Yankees can firmly say the 2012 postseason is well underway: The Orioles aren't ready to let go of all that Oriole Magic just yet. Baltimore beat the Yanks 3-2 tonight to tie their American League Divisional Series at 1, and they did the way they did everything all year: scraping together a few runs, hanging onto whatever shards of luck they could find, and trusting their bullpen. That didn't work for them last night, when closer Jim Johnson got hammered; tonight, Johnson and the Orioles made it work.
The main issue for the Yankees tonight was a lack of key hits; they were two-for-eight with runners in scoring position and left ten men on base. All told, they were pretty lucky to have the two runs they did. The first run, in the first inning, was an acrobatic wonder from Ichiro Suzuki: You are encouraged to watch this GIF over and over and over. But they were unable to build on that, and, perhaps fittingly, Alex Rodriguez made the last out, striking out, in a 1-2-3 Johnson ninth. (He had a rough night, but lots of Yankees did. People will only remember him, of course)
And just like that the series was tied.
This was, in many ways, almost sporting, that the Orioles won tonight. Their crowd went berserk all night, rather impressive after the soul-crushing defeat in Game One, and saved their loudest shriek for that last out. (Again: Poor A-Rod.) Andy Pettitte did all he could for the Yankees, but Wei-Yin Chen baffled the Yanks all evening, and the bullpen hung on. Orioles fans have been waiting a long time for a postseason win, and they won it in the most Orioles way possible.
But the Yankees still have the upper hand in this series, in pretty much every way. The Yankees are still the more talented team. They split on the road, so all they have to do is beat an inferior team two out of three at home. That should be easy, right? The Orioles keep doing ridiculous things. They've faced far longer odds just to get to this point. The Yankees have a series on their hands. The Yankees still are by far the favorites in this series … but it's okay if you're sweating a little bit. Game Five is Wednesday night, 7:30 p.m. Get ready.