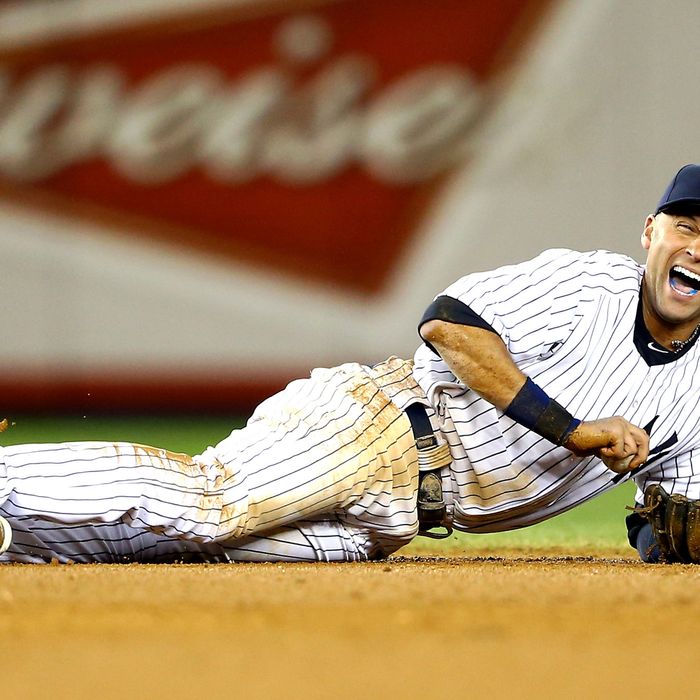 It's hard to even look at this.
Raul Ibanez did the impossible again tonight/this morning, blasting a jaw-dropping two-run homer in the bottom of the ninth with two outs to tie the Detroit Tigers 4-4 in the first game of the American League Championship Series. About one-third of Yankee Stadium was empty, but the place roared regardless, and Ibanez was gonna be a part of Yankees history forever. It brought the Yankees all the way back from a 4-0 ninth inning deficit. It was amazing and out-of-control.
And, as it turned out, it was the worst thing that could have possibly happened. 
The Tigers ended up scoring two runs in the top of the 12th to secure a 6-4 victory, but the loss, frankly, is the least of the Yankees disasters. In that inning, Jhonny Peralta hit a hard groundball up the middle —  at this point the Tigers had already taken the lead — and Derek Jeter lunged to his left, grabbed the ball and … something gave. After the game, manager Joe Girardi revealed that Jeter fractured his left ankle: He's done for the year. Jeter had to be carried off the field, and the panic and pain on his face were terrifying. The injury immediately turned Yankee Stadium into a frozen mortuary. Afterwards, it was so quiet that the loudest sound was the blimp engine high above. And blimp engines aren't very loud.
That was the most costly heroic homer in Yankees history. It was also indicative of a larger problem. The Yankees seem to have some sort of strange disease in which their bats only work when the game is almost over: as the Detroit Free-Press pointed out, they have now scored more runs this postseason in the ninth inning or later than they have in the first eight innings combined. (The score is 11-9.) Of course, Ibanez is responsible for four of those eleven runs himself, all of which either tied the game or won it.
It is worth repeating that when Ibanez hit his homer, the Yankee Stadium crowd was awfully thin. Much of that was because of a four-run deficit — the way the Yankees had been hitting all night, it looked insurmountable —  but there were attendance problems from the beginning. The stadium was half full during the national anthem, and after it filled up, the fans were rather sedate and out of it all evening; even the A-Rod boos felt half-hearted and obligatory. (They still came, of course.) Worst of all, the Yankees had the look and feel of a team that was, well, a little hungover. (The sort of thing that might happen when you don't have any days off between your ALDS clinching game and ALCS game one.) Yahoo's Jeff Passan found out that the Yankees were moving fans down from the upper levels to make the place look more full on television. Two consecutive non-sellouts in the playoffs is not the best look.
The whole game, pre-Ibanez, was a bit of an ugly slog. Late-game heroics or not, the Yankees' offense is a mess right now. They had several opportunities against Tigers' starting pitcher Doug Fister but could cash in on none of them. We do mean opportunities, by the way: The Yankees left the bases loaded three times … and they were shut out each time. These chances were not an offense bashing the ball around but just not breaking through. In the first inning, Fister walked three guys before A-Rod grounded out to end the inning. (Before you start booing, he hit the ball hard, the one time he'd do that all night.) In the second, Russell Martin, Jeter and Ichiro Suzuki all singled with two outs, and Robinson Cano lined a ball off Fister's wrist that shortstop Omar Infante grabbed to just threw out Cano at second. (And by just threw out, we mean did not throw out at all. Alas.) Then in the sixth, Mark Teixeira reached on an error, Ibanez doubled down the line and the Yanks looked primed. Then an A-Rod strikeout (Booo!!!!), a Nick Swisher walk … and two extremely meek strikeouts from Curtis Granderson and Martin. Other than those innings, the Yanks never threatened. Outside of Ibanez, Jeter (who had a rough night at the plate himself, actually) and Teixeira, the Yankees have been hitting like a team full of Lew Fords. Check out these four guys: Alex Rodriguez, Nick Swisher, Robinson Cano and Curtis Granderson. For the postseason, they are a combined 10-for-92. Those guys made a combined $64.25 million this year.
But only one of them is being pinch-hit for every game. (Unless he's just benched altogether.) Which brings us to another disaster in waiting for this team. A-Rod is struggling right now – obviously – but it is worth asking, ultimately, what the point of Joe Girardi doing this to him every night is. Obviously, the initial move to pinch-hit for A-Rod in game three worked, but what was then a nutty gamble is now starting to calcify into the openly humiliating. As Joe DeLessio put it in a text after Girardi pinch-hit for A-Rod with Eric Chavez in the eighth inning, with the Yankees down 4-0 and nobody on, "I don't think Girardi has embarrassed A-Rod quite enough. Maybe tomorrow he can try and dunk him in a tank while Chavez hits for him." Mocking A-Rod is just about the only thing involving Yankees hitters that's even slightly fun right now, but let's not forget: A-Rod is still going to be a member of this team for the next five years and, oh by the way, the Yanks sort of still need him to hit right now too. Hitting for him in a bad matchup with a red-hot Raul Ibanez is one thing; hitting for him with Eric Chavez with your team down four in the eighth inning is something else entirely. Maybe Girardi can embarrass A-Rod even more by playing him at short tomorrow. (Actually, someone asked Girardi if he would do that after the game, and he said no. Whatever your thoughts about Girardi's moves this game, he sure did have a stiff upper lip in the postgame press conference. It was impressive.)
But Jeter is all that mattered, really. The Yankees were just shut down in a game in which they don't face Justin Verlander. Their rotation, thanks to the lack of a day off between series, is set up in the worst possible way (they have perhaps another pitching disadvantage tomorrow with Hiroki Kuroda on short rest). Everyone, fans and players alike, looks tired. And now their leader, the one constant this team has had (and their best hitter this postseason after Ibanez, by the way), is done. Forget the emotional gutpunch: They need Jeter to hit. Also: The bullpen is completely shot now. 
Game two is tomorrow at 4 p.m. The Yankees need something good to happen. It's tough to see where it comes from.