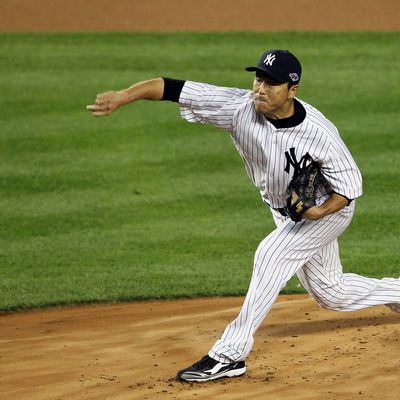 Lost in all the excitement over Raul "Force of Nature" Ibanez — and in all the attention being paid to Joe Girardi's decision to pinch hit for Alex Rodriguez in the ninth inning of Game 3 — was another impressive night for the Yankees' pitching staff. Hiroki Kuroda worked into the ninth inning, allowing five hits and two runs, both on solo homers. And the bull pen last night gave the Yankees' offense multiple chances to win in extra innings, by which we mean, they kept Baltimore scoreless until Ibanez could bat again.
For all the Yankees who are struggling at the plate so far, things couldn't be going much better, pitching-wise. The worst start for the Yankees' so far was Andy Pettitte throwing seven innings of three-run ball in Game 2, and obviously, that's not bad at all. Both Kuroda and Sabathia, meanwhile, lasted into the ninth, holding the O's to two runs apiece. And these quality outings have meant that Girardi hasn't had to go too deep into his bull pen so far: He's used just three relievers so far, and all but a third of the innings thrown by relievers have been thrown by the duo of David Robertson and Rafael Soriano. (Boone Logan threw that other one-third of an inning, retiring lefty Jim Thome last night.)
Through three games, the Yankees' bull pen hasn't allowed a run in five total innings of work. And the bull pens have been key in this series, as all three games have been tight late: Game 1 was tied heading into the ninth, and Games 2 and 3 were one-run games after eight. But while the Yankees bull pen has excelled despite not having to work much, Baltimore's pen — which helped the O's compile such a good record in one-run games and extra-inning games this year — has faltered. Jim Johnson, their All-Star closer, imploded in ninth in Game 1 and served up Ibanez's first homer last night. And after Robertson finished his second scoreless inning in Game 3, Brian Matusz gave up Ibanez's game-winning homer on the first pitch of his second inning of work.
These quality starts, of course, are good news for the Yankees, a team that should score enough runs to win ballgames when their pitchers turn in solid-if-not-unhittable outings. (The Yankees'$2 804 runs during the regular season were good for second most in the majors and were just four behind Texas.) And in a postseason in which the only pitches Mariano Rivera will throw are ceremonial, the bull pen has done its job, as well. Of course, none of this says anything about tonight's starter, Phil Hughes. Worth noting, though, as we look ahead to tonight's Game 4: Avoiding a fifth game in the ALDS not only would mean advancing to the next round and having CC Sabathia ready for Game 1 of the ALCS on Saturday, it would also mean not having to worry about the messy pitching situation they'd otherwise have to deal with if they beat the Orioles in five.