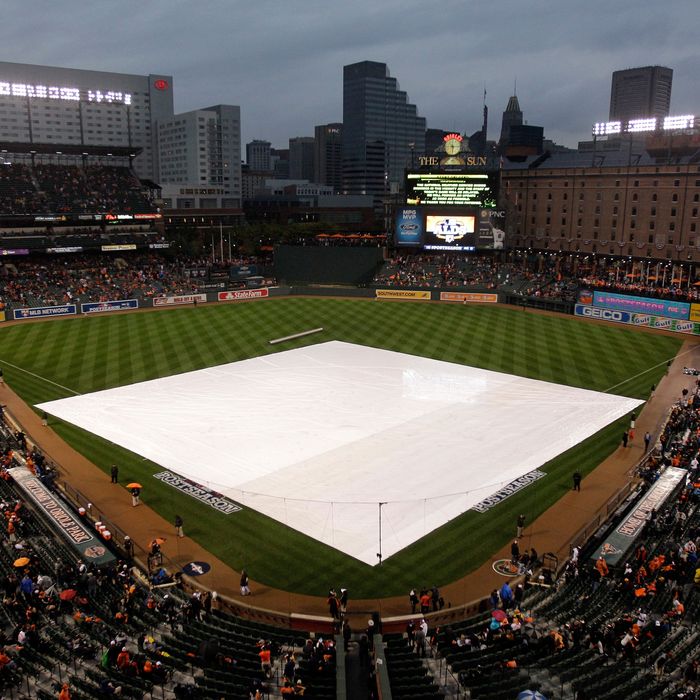 Please, no tarp this time.
The Yankees, up 1-0 in their ALDS with the Orioles, take the field once more tonight. Andy Pettitte will take the mound for his first playoff start in Baltimore since 1996 while Wei-Yin Chen looks to pitch Baltimore back into the series before the teams head to New York. When all of this will happen, exactly, remains to be seen.
Mother Nature decided to water Camden Yards on Sunday night, delaying the game for almost two and a half hours after the six o'clock start time. That wasn't enough, it seems, as more rain is expected in Baltimore tonight. First pitch is scheduled for 8:07 p.m. — about when the last game actually began — but pretty much every weather source expects a wet, chilly evening. Scott Dance of the Baltimore Sun consulted most of the major outlets this afternoon (and concluded that, yes, it's probably going to rain), and right now, Weather Underground (not that one, though I do wonder what they think about all this) shows the chance of rain jacked up to 80 percent at 8 p.m. and not really relenting thereafter, though the rain is supposed to be light. Weather.com gives a much more favorable prediction.
So … yeah, Yankees-Orioles tonight. It may or may not happen at a time that may or may not be the scheduled one. If you're going, wear a raincoat. If you're watching at home, maybe wear a raincoat anyway because you just can't be too safe these days. Woo!