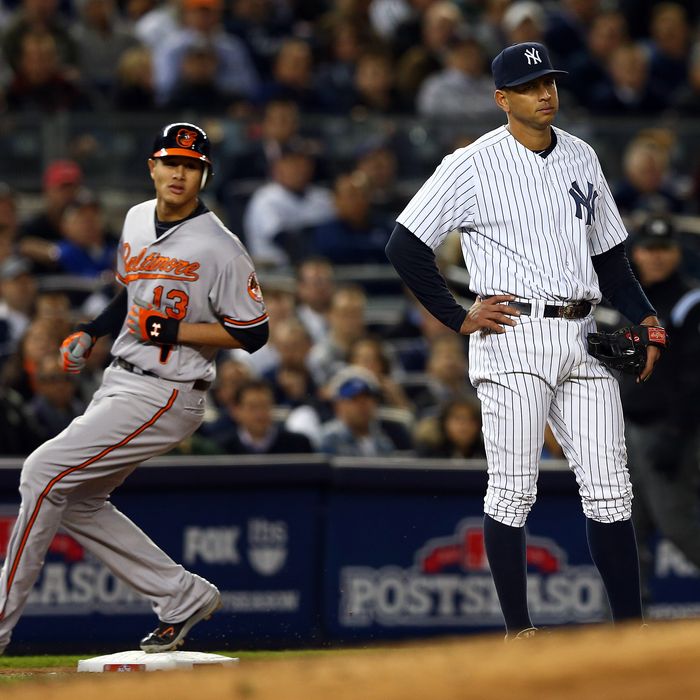 Obviously, the reason that the Yankees are suddenly, amazingly tied 2-2 in their American League Divisional Series after an exhausting 2-1 loss to the Orioles tonight is because they're not scoring runs. But it's still sort of staggering to consider just how much they're not scoring runs. The Yankees have now scored four runs in 25 innings over two nights when they were facing Miguel Gonzalez and Joe Saunders, and two of those runs were out-of-nowhere crazy-time home runs. They were 1-for-12 with runners in scoring position, but that's overselling it: They had chances, but it never felt like an abundance of them, and they never felt all that threatening. The Yankees are facing elimination because their cavalcade of sluggers absolutely cannot hit.
You name 'em, they ain't hittin' right now. Ichiro Suzuki, .200. Robinson Cano, .111. Alex Rodriguez, .125. Nick Swisher, .133. Russell Martin, .214. Curtis Granderson, .063. (!!!) Only Derek Jeter and Mark Teixeira are hitting better than your average National League pitcher for this series. The question is not how the Yankees are tied with the Orioles. The question is how they haven't lost already.
The answer, of course, is the pitching, or the Orioles' lack of hitting, or both. The Yankees, for the fourth time this series, got a terrific performance from a starting pitcher, this time from Phil Hughes, who threw 6 2/3 innings and gave up only a Nate McLouth home run. (It feels wrong to blame someone for giving up a Nate McLouth home run; it's like blaming someone for having a piano fall on their head. They're equally random, unlikely events.) Suffice it to say, the Yankees pitching staff was appropriately appalled by McLouth's homer. After that blast, Hughes, Boone Logan, David Robertson, Rafael Soriano and Joba Chamberlain combined to throw six innings without giving up a hit or a walk. (We are willfully refusing to call the ball Jayson Nix botched a "hit" like the official scorer did. It didn't matter anyway; pinch runner Lew Ford was picked off just a few seconds later anyway.)
Chamberlain gave up the first hit on a flukey broken bat single by Matt Wieters, and Chamberlain continued his apparent punishment for having once offended an angry and vengeful God by being nailed with the broken bat and having to leave the game. (Honestly, Joba Chamberlain must be the least insurable person this side of that guy who keeps jumping out of balloons from space.)
But still: The Yankees could not score. And the Orioles finally took advantage of it in the top of the 13th, thanks to a Manny Machado double and a J.J. Hardy double. That run was all that was needed at that point. Jim Johnson shut down the Yankees in the bottom of the 13th, but you got the sense that if the Yankees had batted another six or seven innings, they wouldn't have scored then either.
Oh, yes, about that bottom of the 13th inning: Guess who got pinch hit for again.
Yep, A-Rod got the hook again, this time for the decidedly less glamorous Eric Chavez, who lined out to the third baseman to end it. It's one thing to be pinch-hit for when the maneuver leads to two great moments in Yankees history. When it happens twice, you're truly humiliated, and your manager is like an aging rocker trying to play his lone hit twice in the same show. Say what you will about all the booing, by the way, but the crowd came ready to cut Rodriguez a break. A-Rod was welcomed with applause when he came up in the top of the second, and a smattering of fans even tried to start a "Let's Go A-Rod" chant, though it felt more obligatory than impassioned; they wanted to show their support, but they weren't gonna get all mushy about it. But when he singled in the fourth, the crowd let out one of its biggest cheers of the night. There was a general consensus, when Joe Girardi pinch hit for A-Rod last night, that it would be some sort of permanently humiliating moment for Rodriguez, something he would never live down, the final proof of just how super duper unclutch he really is. But the way Yankees fans handled A-Rod's first two at-bats tonight argued the opposite: By replacing A-Rod at a moment when every Yankee fan believed he desperately needed to be replaced, Girardi made A-Rod more human and relatable, a transaction that Rodriguez helpfully secured by being so apparently magnanimous about the whole thing.
Of course: Then A-Rod struck out with Teixeira standing on second base in the sixth inning and, even more crucially, with Ichiro on third and Teixeira on second in the eighth. No matter where Girardi puts him in the order, the game keeps finding him. Granderson is catching tons of heat too, striking out two more times tonight. When Girardi had seen enough, Granderson couldn't even get a bunt down, and then he struck out again in the 12th. Raul Ibanez can only pinch-hit once, sorry.
And so here we are, pushed to the brink, like the rest of the Division Series. (Seriously, all four.) The Yankees will pitch CC Sabathia against Jason Hammel. The Yankees would seem to have all the advantages, from the starters on down. But they've always seemed to this series, and here we are. There are so many questions for tomorrow. Does A-Rod start? If so, where does he bat? Can Jeter play short? What do you do with Granderson? Can the Orioles really pull this off? Will anyone on the Yankees ever hit again? How are you going to get out of work in time for a 5 p.m. start? Most of all: What the heck is going on?
The Yankees season can end tomorrow, against the Orioles, at Yankee Stadium. It's lunacy. And it's where we are. Strap in, everybody.