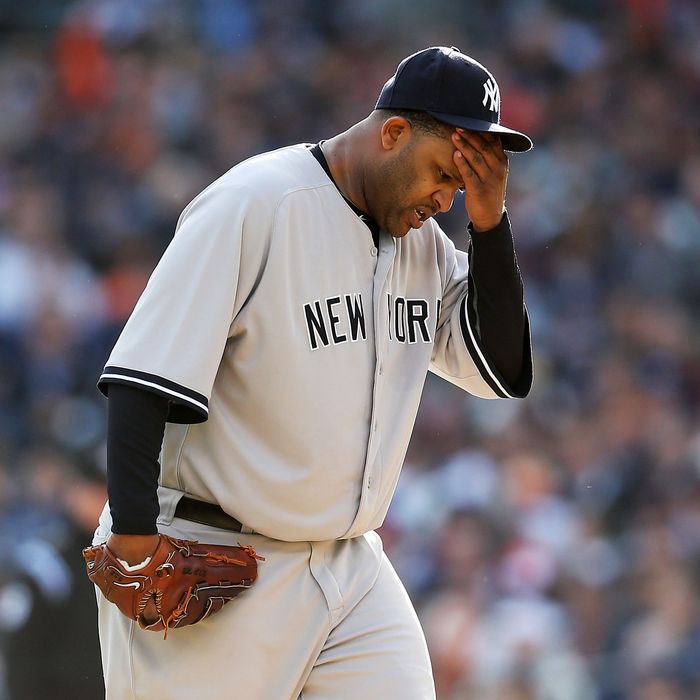 The last time the Yankees were swept in a postseason series was 1980, when the Royals took them out in three games. Even though the Yankees had won 103 games that season, George Steinbrenner fired manager Dick Howser – who had only managed the Yanks that one year – after the series. (Those two had a tumultuous season; you can read all about it here.) Now that the Detroit Tigers have swept the Yankees in their American League Championship Series, you shouldn't expect quite such a thorough housecleaning in the now-here offseason. But it might be close.
Once again, this 8-1 shellacking is a Yankees' loss that you just can't say all that much about. They once again couldn't hit – starter Max Scherzer took a no-hitter until the sixth inning – and this night, the Yankees didn't get the terrific starting pitching performance that has kept them in the other games this series. (We're using a liberal interpretation of "in" there.) CC Sabathia gave up 11 hits and six runs in 3 2/3 innings; he couldn't save them again, and it was certainly asking him too much for him to even try.
The Yankees ended up with just two hits on the day; that's how many errors they had as well. Meanwhile, the Tigers had 16 hits. That's five more hits than the Yankees have had in the last three games. Everyone was hitless again from Cano to Teixeira to Ibanez to Granderson to so on and so on and so on. Alex Rodriguez did get in the game – pinch-hitting for Ibanez, in what sort of sounds like a joke when we put it that way – and went 0-for-2. His hitless performance today, honestly, definitely made him feel like a True Yankee. True Yankees just don't hit. The Yankees never once led in this series. It was just a big bunch of nothing, every night.
So it's over. The Tigers have almost a full week off until the World Series begins next Wednesday. The Yankees have five months until spring training begins. It's difficult to think of a Yankees offseason, even the year Joe Torre left, that will potentially be full of more turmoil than the one coming up. That's gonna be tough to deal with, but there is good news: This ALCS is over. You don't have to watch another second of it.