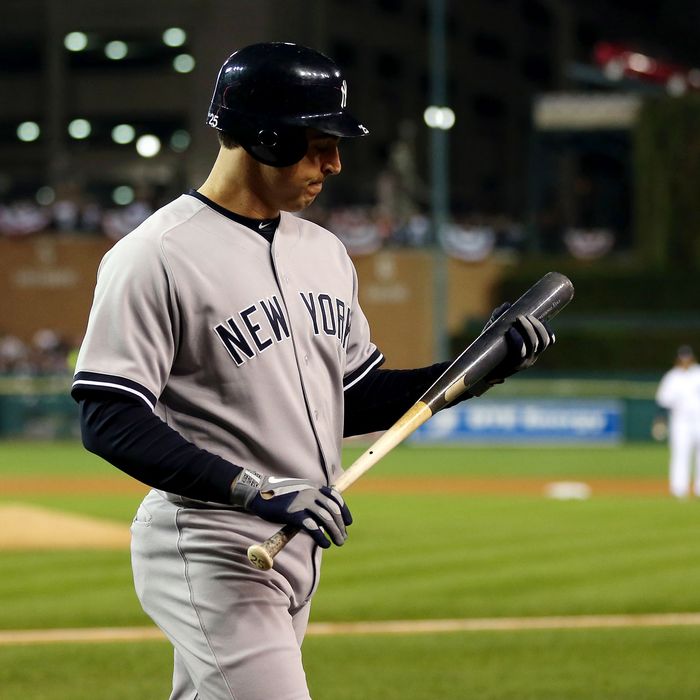 A good craftsman never blames his tools.
There was a moment, in the end of the sixth inning of the Yankees'$2 2–1 loss to Detroit in Game 3 of the American League Championship Series, when you thought the Yankees might just win this thing. The Tigers, up 2–0, had loaded up the bases for Miguel Cabrera who, you may have heard, just became the first baseball player to win the Triple Crown since 1967. Boone Logan stood on the mound, looking … concerned. Cabrera smashed his first pitch down the left-field line, but third baseman Eric Chavez snagged it and pulled off a terrific double play. It's the sort of play that turns games around, that changes the momentum, that can truly inspire a team. Well, not any team: a team that can hit. The Yankees are not that team, not any longer. Momentum, excitement, and thrilling plays don't mean anything if you can't hit the ball. The Yankees cannot hit the ball.
After that double play, the Yankees had a leadoff single by Ichiro Suzuki aaaaand … that was it. Of course, in the six innings before that, they had only one single. Both were by Ichiro Suzuki. The Yankees are basically that Mariners team last year that lost 95 games. It if hadn't been for a leadoff home run in the ninth by Eduardo Nunez — who somewhat inexplicably wasn't pinch hit for by one of the men on the bench making eight figures to hit a baseball — the Yankees would have become the first team to be shutout in two consecutive postseason games since the 1991 Pittsburgh Pirates.
Of course, they were facing probable two-time Cy Young Award winner Justin Verlander tonight, but it's tough to argue they would have done much better against anyone else. (Verlander, all told, wasn't even that sharp.) You know that fearsome fivesome of Alex Rodriguez, Robinson Cano, Nick Swisher, Curtis Granderson and Eric Chavez? Two of them were on the bench tonight, but the other three went a combined 1-for-10, which means they're now 13-for-128 in this series with 46 strikeouts. It is easy to look at Joe Girardi's crazy-ass lineup and wonder how in the world he expected this team to score any runs tonight. But you have to wonder if any lineup the Yankees put out there was going to score any runs tonight, or any night. One that didn't have Eduardo Nunez batting nine times, anyway, apparently.
There was that little run in the ninth, when the Yankees' bats didn't so much "come alive" as "foul off enough pitches that the pitcher eventually wore out." Which is of course the plan; it's what the Yankees are supposed to be doing. But even that, with singles by Mark Teixeira and Cano (finally!), was a sign of how desperate matters have become for the Yankees. With Swisher and A-Rod on the bench, Girardi left Raul Ibanez in to face lefthander Phil Coke, despite the fact that he is awful against lefthanded pitchers. It's a terrible, illogical move, one Girardi only made because of Ibanez's postseason heroics so far. That's what it has come to: All the Yankees have left is blind faith in magic and illusions.
There's really not much more point to belabor here. The Yankees have scored one run in their last 21 innings. They haven't scored before the ninth inning yet. They look lost; they look like they're carrying their bats upside down. They are now down 3-0, a game away from elimination. Tomorrow night, CC Sabathia will take the mound to try to keep the Yankees' season alive. He better throw twelve shutout innings. And maybe hit a homer.
Don't worry, Yankees fans. This is all going to be over very soon now. You don't have to watch much longer.