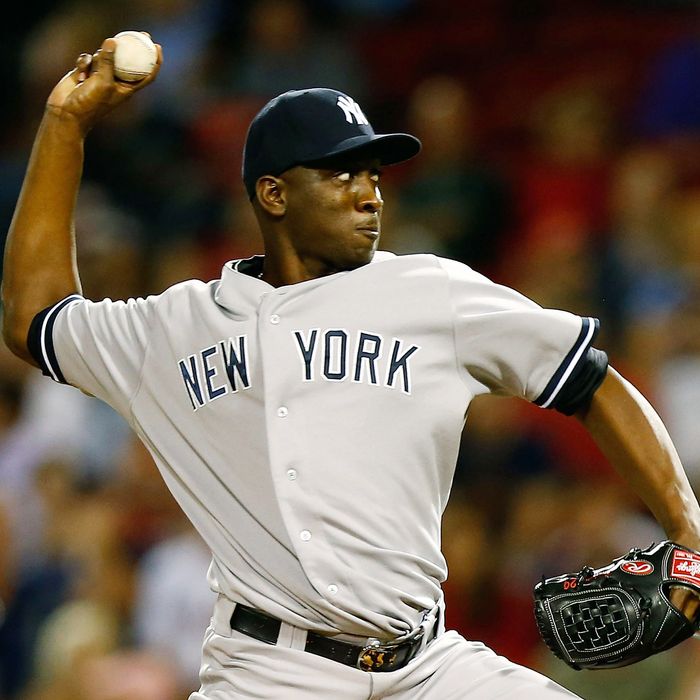 As expected, Rafael Soriano opted out of the final year of his contact yesterday. Soriano, you may recall, signed a three-year, $35 million deal prior to the 2011 season that allowed him to opt out of the final year. Brian Cashman wasn't in favor of the deal: That was an awful lot of money to give to a pitcher they intended to use as a setup man for as long as Mariano Rivera was around. But this year, with Rivera on the disabled list for much of the season, Soriano got a chance to close, and he excelled, recording 42 saves despite not taking over as closer until May. Opting out made plenty of sense — Soriano's stock is high right now, and he has an opportunity to sign a contract that will cover multiple seasons.
As a free agent, Soriano can now seek a contract with any team, including the Yankees. Randy Levine said yesterday that Boras told him he could get his client $60 million over four years, but Boras says he never gave a total price for the package he was seeking. (Via Jon Heyman, Boras says he only suggested that the average salary be north of $14 million, since that's what Soriano was due in 2013 had he not opted out.)
This kind of thing has rarely phased the Yankees in the past. Alex Rodriguez opted out of his contract and got a new one. CC Sabathia opted out of his deal last year and got a new one as well. But the Yankees want to get their payroll under $189 million by 2014, in order to avoid huge luxury taxes. And while they'll hardly pinch pennies over the next couple of years — $189 million is still an incredibly high payroll — they'll at least have to be more careful on how they spend their money. Once upon a time, they could afford to make expensive mistakes. That's much more difficult now, with A-Rod's contract serving as exhibit Nos. 1 through 114 million.
But Boras wants to remind the Yankees of how they've thrown around money in the past. Via the Times:
Boras denied that he made promises to Soriano, but he did note that it was an obvious decision to opt out. He said he would continue to negotiate with the Yankees, and was not overly concerned about the Yankees desire to limit payroll by 2014.

"The Yankees have always been about getting the best players and having great depth," he said. "The initial decision to sign Soriano is one of the main reasons they won the A.L. East in 2012 and decisions like that are what made the Yankees a goliath. Once they stop making decisions like that, the Yankee brand changes."
Oh, that Boras, always looking out for the team. See, he's not arguing that the Yankees should give his client a pile of money so that his client can have a pile of money. No, he's saying that the Yankees should give him a pile of money because if they don't, they cease being the Yankees. And they wouldn't want that, would they?
It's no wonder Boras wants to remind the Yankees of those free-spending ways: Most teams wouldn't even consider giving a closer a contract like the one he's presumably seeking, and while Soriano's last contract did provide the Yankees with depth, it was signed before the last CBA was agreed to. Now the Yankees face a huge luxury tax if they don't get under that $189 figure by 2014, but Boras would probably ask how the Yankees could even THINK about a luxury tax at a time like this. The Yankee brand is at stake! And the only way to preserve it is to give Soriano — and eventually Robinson Cano, another Boras client — a massive contract. It's the Yankee Way.