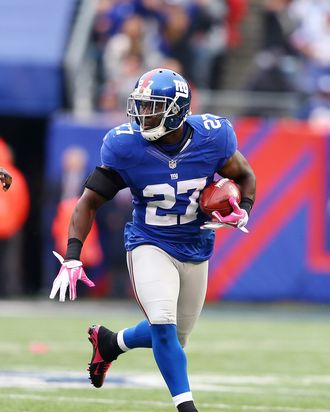 Can Stevie Brown and friends squeeze some turnovers out of the Steelers?
After narrowly surviving a whopper of a comeback in Dallas, the Giants are back home at the relatively unaffected-by-Sandy MetLife Stadium to face the Steelers. Eli Manning and Ben Roethlisberger — a couple of 2004 draft classmates with four ringed knuckles between them — don't get to face each other very often, so that's the prevailing story line heading into the weekend.
Both Manning and Roethlisberger are having fine seasons, though in different manners. Manning has thrown more often for more yards, but Roethlisberger — in spite of a struggling offensive line — has taken much better care of the ball. In general, the Giants have an explosive offense more prone to being turned over, while the Steelers have a solid but not quite elite offense that rarely cedes possession.
Now, look at the defenses. The Giants' defense isn't elite by any stretch of the imagination … except in the realm of takeaways. For all the big-yard plays the Giants surrender, they gobble up interceptions and fumbles as voraciously as anyone in the NFL. Just look at how they built their lead last week, then how they lost it. Incidentally, that defense will regain the services of Kenny Phillips, but only in spots as he eases his way back (maybe) to the starting spot in which Stevie Brown has been thriving since Phillips got hurt. With Chase Blackburn out at middle linebacker, Mark Herzlich is likely to start.
On the other end, Pittsburgh's defense ranks among the best in the league, with hardly any interceptions or forced fumbles. So, summing that up, you've got a moderately turnover-able offense facing a defense more focused on containment than thievery, and a staunchly possessive offense facing a defense that thrives on picks and recoveries. Ultimately, that second matchup seems most important. If the Giants — that spotty but recovering secondary in particular — can't make big plays, one worries about them getting overwhelmed and denied their takeaways. I don't know. Even at home against a poor road team with an inferior record, the Giants don't seem poised to steal another one, should it come down to that. Steelers 27, Giants 20