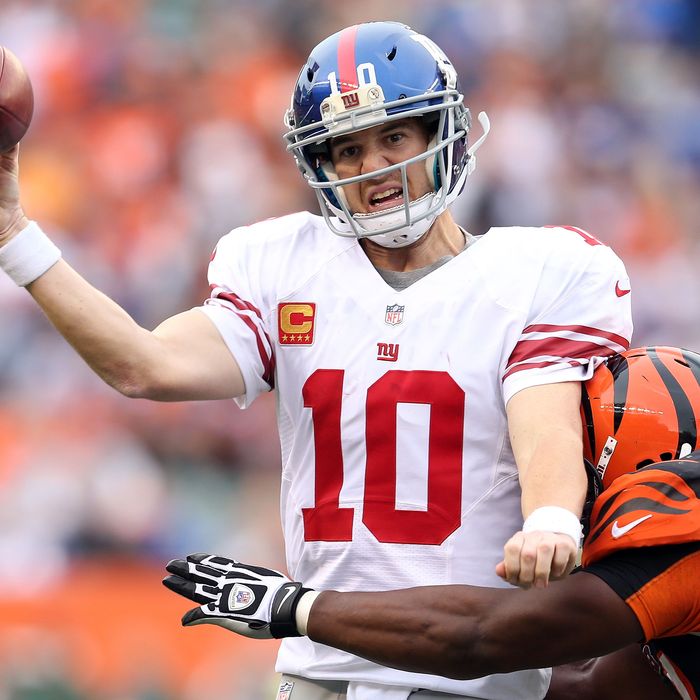 They Giants had played two mostly lousy games going into this weekend's visit to Cincinnati: one in which they blew a big lead to Dallas only to survive with a victory, and another in which they fell to Pittsburgh, snapping their four-game winning streak. But yesterday's game against the Bengals was so much worse than either of those. The Bengals (3–5 entering yesterday's game) scored early and often, and the Giants (6–3 as of yesterday morning) were never really in it. There was no real hope of a miracle fourth-quarter comeback in this one; hell, the Fox booth was openly wondering whether David Carr might get some garbage minutes. The Giants' November swoon is in full effect, folks.
The timing of the first Bengals touchdown was kind of amazing actually: The Fox broadcast team had just finished a discussion about A.J. Green's comments about holes in the Giants defense when he found himself so wide open that he could have stopped to tap out a text to Boomer Esiason before walking into the end zone. That score set the tone for the afternoon. Plenty of Giants games have crazy momentum swings in which the team in the first quarter hardly resembles the one in the fourth quarter. This was not one of those games.
Not to put all of the Giants' recent struggles on Eli Manning, but he hasn't thrown a touchdown pass since hitting Victor Cruz for the game-winning touchdown against the Redskins on October 21. He threw a pair of interceptions yesterday, and he's averaged just 177.3 yards a game over the past three weeks. His three lowest single-game quarterback ratings of the season have all come in the past three weeks (and his four lowest have come in the past four weeks). If defenses can keep Manning from throwing the deep passes he's so good at completing, the Giants' offense is no longer quite so effective. Eli and the passing game aren't the only issue right now — see Tom Coughlin's comments about his "soft" defense last week — and he's certainly proven he's capable of great things, but he sure hasn't done it this month.
Speaking of the month: Manning's lost both of his games this November and is now 13–19 for his career in the month. Two pieces of good news though: Last season, he was 1–3 in November, and last season turned out all right. So we know he and the Giants are capable of turning things around. (It's sort of what they do.) And this year, the Giants' bye comes in November, so he's only got one more start before the calendar turns to December. Oh, and despite what's happened the last couple of weeks, the Giants still have a game-and-a-half lead over second-place Dallas. So that's pretty good, too.