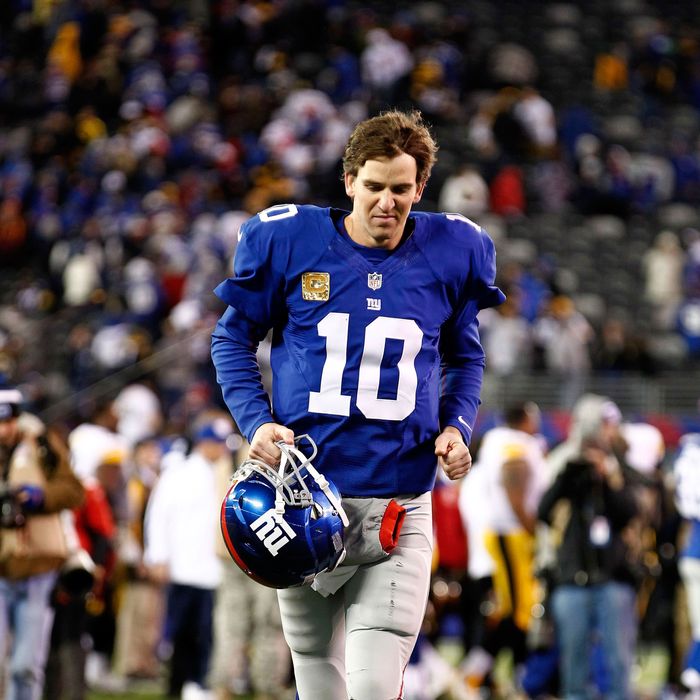 It is a little eerie. Last season, the Giants started 6–2, then went on a four-game slide. This year, they started 6–2, only to fall to 6–3 with a loss to the Steelers last week. Sunday is as ripe an opportunity as any to nip that symmetry in the bud (granted, New York did go on to win the Super Bowl last year, so maybe there's something to be said for a good mid-season slump).
This weekend, the Giants are in Cincinnati, where the Bengals already have their four-game slide behind them. While New York feels crappy about their collapse against Pittsburgh, it's nothing compared to the Bengals' bad luck in close games over that stretch. Aside from Cincinnati's equally recent, quadruply devastating slide, there are a few other things working to the Giants' advantage. First, the Giants expect to have Chase Blackburn, listed as probable today, back on the field to help rescue last week's "soft defense." Second, that defense — which is still among the best in sacking — will match up against an offensive line that allows quarterback Andy Dalton to get sacked quite a bit. And third, Cincinnati's relatively weak pass defense seems ripe for an Eli Manning recover game.
Given the opportunity to recover from last week's collapse, the Bengals' troubles and weakness at home, and the urgency in place with a tough schedule remaining after their bye week, this feels like bounce-back opportunity the Giants can seize. A few big passing plays could sink them, but: Giants 30, Bengals 23.