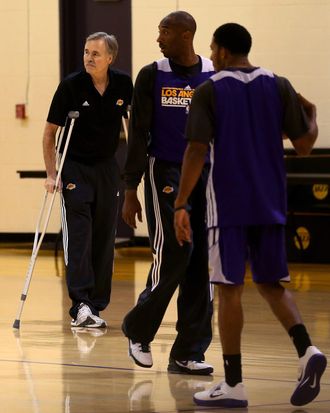 This limpin' bro will run the Nets' opposition tonight.
There are a couple o' fun story lines to be found in tonight's Nets game in Los Angeles. The one likely to get the most national attention involves an old friend of the Knicks. Tonight's game likely marks the official NBA return of Mike D'Antoni. The Lakers hired D'Antoni last week, but he's been unfit to patrol the sideline while recovering from knee surgery. (And it's a shame. The Lakers as coached by a painkiller-addled Mike D'Antoni would have been fascinating.) After a pleasant Bernie Bickerstaff interim, Mike D'Antoni was a "game-time decision" — you don't hear that often with coaches — for tonight's game. He says he's ready to go, so perhaps that decision's already been made.
Meanwhile, focusing on the Nets themselves, this splendid win streak is about to get tested. The Nets'$2 6-2 record, five-game win streak included, has come against the weakest schedule any NBA team has faced thus far. Aside from the Celtics (maybe), the Nets haven't vanquished any real world-beaters, and they got thumped by the Timberwolves and Heat. None of this is a knock on the Nets. As they say, you play the teams you're scheduled to play (they do say something like that, right?). Avery Johnson can't look at the schedule and be like "Yuck, the Kings? Too easy. Give us the Spurs tonight."
Brooklyn's got to play everybody, though, and D'Antoni's Lakers (5-5, but playing way better than that in the Bickerstaff era) pose the first of several major challenges to the win streak. After that, the Nets complete their California trip against the  6-5 (at the moment) Warriors, then return home to face the 8-2 Clippers, 5-5 Trail Blazers, and the 7-1 Knicks. It's a stretch in which the Nets can either confirm the validity of their success, confirm the doubts of skeptics, or (and it'll totally be this one) fall somewhere in between. Tip-off tonight is at 10:30 p.m., so maybe take a nap.