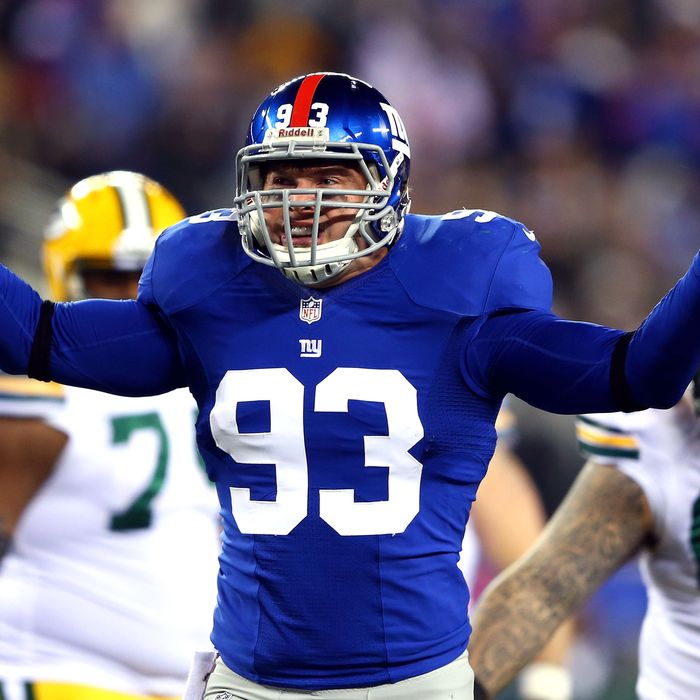 Have two consecutive games ever summed up a team more perfectly? Two weeks ago, the Giants got stomped in Cincinnati, losing to a 3-5 Bengals team by eighteen points. Then last night, on national television against the Packers, the Giants were on the winning side of a blowout, crushing Green Bay 38-10. Yes, Green Bay was shorthanded, but still: Last night the Giants — who'd lost two straight games and haven't looked quite right for a month — reminded us how capable they are. We'd been seeing a lot of the Bad Giants this month, but last night, we saw the Good Giants.
We suppose looking really good one week and turning in a stinker the next isn't a uniquely Giants thing; that sort of stuff happens to lots of talented teams. But these Giants are just so unpredictable: To look so bad against Cincinnati and so good against Green Bay would be stunning if we hadn't seen this sort of thing before. Maybe the bye week helped. Maybe the Giants caught the banged-up Packers on a good week, though it's worth noting that Green Bay entered the game on a five-game winning streak. But that's as good as the Giants have looked since routing San Francisco in Week 6.
Eli Manning and the offense had a mostly strong night. Ahmad Bradshaw gained 119 total yards, and Andre Brown ran for 64 yards and a touchdown, though his season-ending broken leg kept this one from being wholly celebratory. The Giants' Red Zone offense was outstanding, getting the ball into the end zone on five of six trips inside the 20. And Manning — whose place in Giants history had already been established even without this particular record — threw his 200th career touchdown pass, moving him ahead of Phil Simms and into first place on the franchise's all-time list. The defense, meanwhile, played what might have been its most complete game of the season, sacking Aaron Rodgers five times and holding the Packers to just one touchdown.
The Giants have a two-game lead in the NFC East through twelve weeks, and considering their opponents in Weeks 15 and 16 are currently a combined 19-3, maintaining and even extending that cushion is a good idea. Then again, as the Giants have shown in recent years — and in recent weeks — they can beat anybody in the league, even if their fans can never be totally confident that they'll take care of business against weaker opponents. Say this about the Giants: They keep things interesting, and not in the way the Jets' circus keeps things interesting.
Next up: a pair of 5-6 teams that are hardly gimmes. A week from tonight they visit Robert Griffin III and a Washington team they barely beat earlier in the season. Then they return to the Meadowlands to host a New Orleans team that's embarrassed them twice in the past three years, albeit under different circumstances. No sense looking ahead to that game against the Saints quite yet, though: The Redskins, after all, are one of the two teams trailing the Giants by two games in the East.