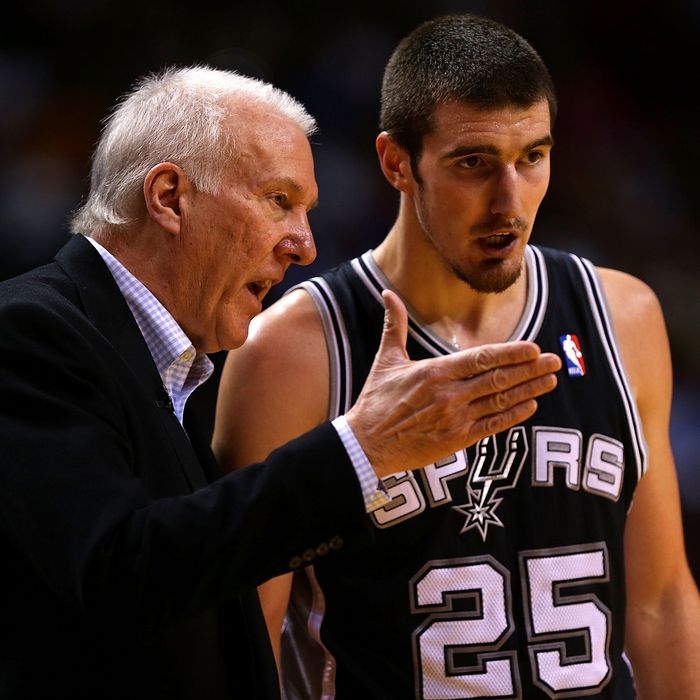 Gregg Popovich and NBA superstar Nando de Colo.
Someone out there flipped on last night's Spurs-Heat game in the second quarter or, worse, showed up at the game itself without checking the Internet beforehand and became very puzzled. Why was Matt Bonner playing so many minutes? Where was Tim Duncan? Wait … where were Manu Ginobili and Tony Parker and Danny Green? Did something awful happen to the Spurs?
Nope. Just coach Gregg Popovich doing Gregg Popovich stuff. Duncan, Parker, Ginobili, and Green weren't in Miami last night because Popovich sent them home. Citing a taxing part of the schedule — a fourth game in five nights to close a six-game road trip — Popovich apparently punted the trip-ending game in Miami, resting relatively uninjured stars in favor of his bench. In response, David Stern released an apology to the league's fans and promised "substantial sanctions" upon the Spurs for their malfeasance.
And everyone's very, very angry, for one reason or another. Andrew Sharp sums up the debate — and the silliness of said debate — expertly in his piece from this morning. It's the most tidily diametric version of the "BUT WHAT ABOUT THE POOR PLAYERS!?" vs. "BUT WHAT ABOUT THE POOR FANS!?" debate we have to sit through at the end of every season (especially in the NFL), and even riper for slobbery discourse because it took place in November in a nationally televised game between two NBA powerhouses. On one hand, Popovich is well within his rights to make whatever personnel decisions he pleases. It was, indeed, a tough part of the schedule and, shit, the Spurs nearly beat the Heat anyway. Popovich has made moves like this before; he did it in the middle of a massive win streak last season. Plus, other teams do this all the time — sometimes for months at a go — but simply aren't as up front about it. Plenty of teams have exaggerated inconsequential injuries so they could hold stars out of unimportant games. If you're deceitful enough and don't matter, the NBA doesn't give you trouble.
But Popovich didn't play pretend. He intentionally warped a showcase game for the NBA, using a stretch of schedule that was tough, but not cruel or unusual, as an excuse. The NBA is an entertainment business, and Popovich supposedly made a big game less entertaining. The Spurs weren't committed to producing the best episode of TV that they could. So David Stern will, one assumes, fine the team for screwing up his TV show, denying them their share of that TV money and (probably) then some.
Whatever. This seems to me like everyone getting what they want. Popovich got to preserve his players and make a statement (and again, very nearly get the win — Gary Neal and company only lost by five). and Stern got to look powerful and fan-friendly. If you're very angry about this in one way or the other, you've probably got an okay argument, but you should probably also relax. I tend to side with Popovich, but just because he's hilarious and irreverent. I also recognize that he's an insubordinate troll. It's all good.
So, none of this matters. Folks will freak out for a day or two, then the debate will fade away until it gets summoned by the next star-benching incident. I will say that I've tried to put myself in everyone's shoes to understand the uproar, and the one perspective I find particularly interesting is that of the youthful fan attending his or her first ever basketball game. I imagine myself having plunked down over $100 for a pair of tickets for myself and my hypothetical Spurs fan daughter, Duchess Juicebox Rosenthal-Lakshmi. I imagine her expressing dismay upon the discovery that Tim Duncan isn't even in the building. Is this a disaster, as Stern would make it out to be? No. I see it as a teaching moment — about the delightful farce that is professional sports; about Gregg Popovich, merry hobgoblin, and the art of trolling; about the wonders of Nando de Colo. The young, front-running basketball fan has much to learn from a night like last night. It's a positive experience. The NBA — indeed, the entire concept of people making a lot of money because some kids are good at throwing stuff — is bizarre and hilarious, and if you just appreciate that, you'll find yourself very relaxed about incidents like last night's.