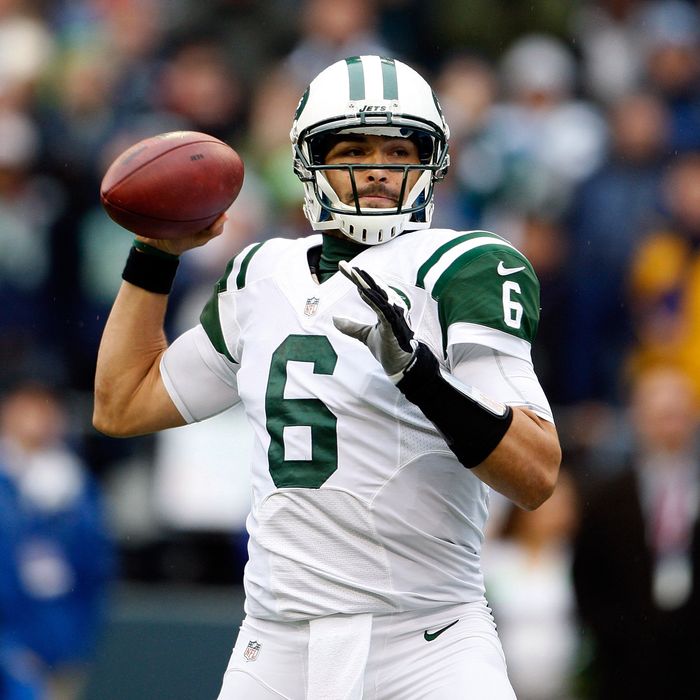 This week began with a 28–7 Jets loss in Seattle in which Mark Sanchez struggled. The defeat dropped the Jets to 3–6, their worst start through nine games since opening the 2007 season 1–8. And then the circus really got going once again.
A bunch of players ripped Tim Tebow in the Daily News, which, honestly, is the kind of thing the Jets signed up for when they traded for him. Then yesterday, Woody Johnson was talking about how he's disappointed with the team's 3–6 start, and gave a quote that tabloid art departments dream of when asked about his involvement in the Tebow trade:
"This, I really want to clear up," he said. "You guys have been accusing me, this phony story of me being more concerned with PSLs or cash or something else. My job — one, two and three — is to win games. That's why I got into this to begin with. It's to win games … It's not to sell PSLs or to sell hot dogs."
Cue the Photoshop of Johnson as a hot-dog vendor on the front page of the News.
The Jets, who have lost three in a row and are just 1–3 on the road, head to St. Louis on Sunday afternoon. The Rams are coming off a rare tie, and at 3–5–1, they're the kind of the team the Jets need to beat if they're going to at least finish with a respectable record. As for achieving more than that? Here's Rex Ryan after Sunday's loss:
"I don't know how many more losses you can spot somebody before you think can make the playoffs," Jets coach Rex Ryan said. "It's about a two percent chance at making the playoffs with the record we have and we are going to take that shot."
There's a trace of confidence in there, but that's hardly the Rex Ryan we're accustomed to. If that's Rex Ryan at 3–6, we'd hate to hear him at 3–7. Rams 17, Jets 10.