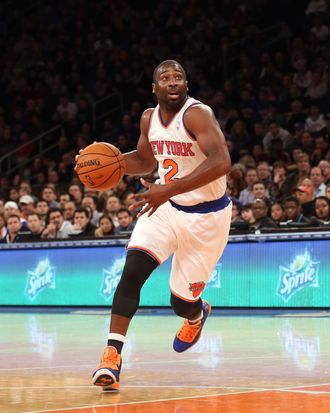 For the first time all season tonight, the Knicks will play a team that did not make the playoffs last season. That they are 7-1 in those first eight games is just one more reason to be excited.
It's the New Orleans Hornets tonight, a team that's currently 3–5, which is perfectly fine for them the year after they had the top overall pick. That top pick is Anthony Davis, who's averaging sixteen points and 8.7 rebounds a game, putting him (along with Portland's Damian Lillard) atop the early Rookie of the Year award lists. (Note to Knicks: A rookie is when you draft a guy and he plays for you in his first season. You don't have any this year and might not for a while.)
The Daily News points out that Davis is sort of a younger version of Tyson Chandler and Marcus Camby, though that speaks even more to how this should be a good matchup for the Knicks; they can match up with Davis but are essentially better at every other position.
Most notably at point guard, which has turned out, so far, to be the strength the Knicks claimed it would be in the wake of Jeremy Lin's departure. Looking at Eastern Conference point guards, Raymond Felton and Jason Kidd are eleventh and first in assist/turnover ratio, respectively, and Felton's sixth in assists per game. That was once considered a worry. It isn't now.
This looks like another one of those games that the Knicks can get away with winning even if they don't play their best. That might not be the best strategy, but honestly, the Knicks are 7–1: Who are we to say anything?