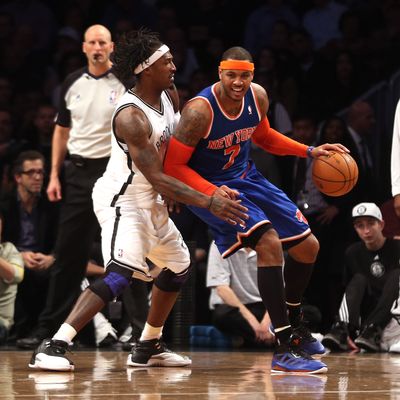 We don't mean to stress anyone out about this, but it is worth noting that since the day before Thanksgiving — and it's funny how that holiday seems like decades ago already, doesn't it? — the Knicks are 1-3, with their only win coming against a 4-11 team at home. Now, two of those games were close and against playoff teams on the road (assuming Dallas can sneak in the playoffs in the Western Conference), but it's difficult to argue that the Knicks played well in any of them, including the win. As Seth put it yesterday, the Knicks have kinda crashed.
Of course, also as Seth put it, if Carmelo Anthony can make a couple of shots in the last seconds — which is asking a lot of him but, after all, is supposedly his job as superstar-clutch-iso-ball-closer guy — the Knicks could be 11-2 and have the best record in the sport right now. So there's that.
The point is, the Knicks seem on a bit of a precipice right now, having lost a few games after that terrific start, but are not all of a sudden terrible. They've got some injuries to deal with (Jason Kidd won't play tonight, though Ronnie Brewer will), but mostly, they need to get their defense back in order, particularly their interior defense. For all the offensive woes against Brooklyn on Monday, it's hard to imagine Raymond Felton will shoot three-for-nineteen again. (If he does, Mike Woodson might drag him off the court by his ears.)
The Knicks get a better sense for the next stage of their season tonight in a tough game at Milwaukee. The Bucks are currently in first place in the Central Division, though at 7-5 they're the only team in the division with a winning record. They're coming off a thrilling comeback victory over Chicago in which they were down by more than 20 in the second half. The Knicks also always seem to have trouble with Milwaukee, though considering how much turnover the Bucks have had, this presumes the Knicks are simply intimidated by the jerseys.
After tonight, the Knicks have three games they are likely to win: home against Washington and Phoenix, and at Charlotte, before two scary road games in Miami and Chicago. They could make us forget completely about this little four-game ugliness with a four-game win streak. But that would have to start tonight.