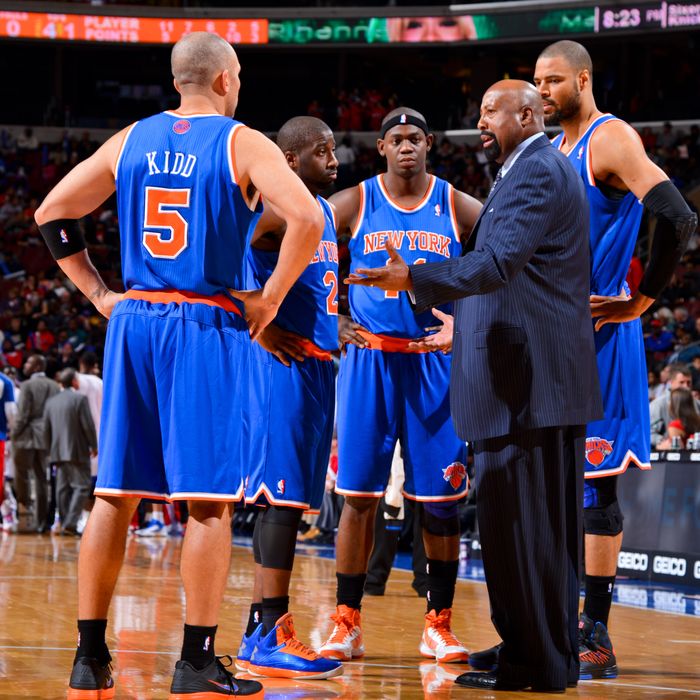 Mike Woodson's Knicks have been dominant in their first three games.
Knicks season is upon us! Each week throughout the year, we'll track the highs, lows, ins, and outs of Mike Woodson's ever-evolving rotation. Come with us for this edition of the Knicks Power Rankings.
1. Carmelo Anthony. (Last week: 1) The Knicks have played nearly flawless basketball in their first three games — all wins, all by double digits — of the season. The most optimistic of off-season prognosticators would not have foretold such a thoroughly dominant start. Nearly every aspect of their attack — passing, shooting, defense — has been solid, and at the forefront of each battle stands Carmelo Anthony. Seriously. Through three games, he's been playing almost exactly the way we all hoped he would. As the de facto power forward, he's digressed only occasionally into the tacky-handed isolation play we've seen from his worst stretches. More often than not, Melo handles the ball on a post-up, pin-down, or ball screen, then reacts based on the defense coming his way. If the opposition sends help (like the Sixers did constantly on Sunday), he kicks out to the perimeter to engage a zippy chain of passes. If he detects no help or weak help, he attacks, often by waltzing his way into the paint to finish or draw a foul. Altogether, you have an offensive universe wherein Melo is the star around which all other bodies orbit, not a black hole consuming entire possessions. That simple approach keeps everyone happy, and it's working magnificently.
On top of all that, Anthony's played a crucial role in the league's second most efficient defense so far. He's communicating, offering timely help, positioning himself for rebounds, and making reckless hustle plays continuously. The league's bigger fours will get their numbers against him (and it's not like he shut down LeBron James or Thaddeus Young this past week), but if you look beyond the head-to-head stuff, you'll see that Melo's been one of the instrumental gears in what has been an astoundingly consistent defensive machine.
2. Jason Kidd. (Last week: 8) It's been a pretty surreal experience to be a fan on the beneficiary end of Jason Kidd's subtle genius. Over almost two decades of facing Kidd, Knicks fans have grown accustomed to loathing his wizardly sense of and control over his surroundings. All of a sudden, he's preempting opposing offensive game plans, patiently unraveling defenses, resurrecting broken plays, and just flat-out draining shots (6-11 on threes so far) for our own good. We even saw the guy drive in for a few lay-ups this week. Kidd's defensive presence is, to me, a lot like Anthony's. As the temporary starting two-guard, he's not qualified to lock down a lot of his marks one-on-one. His defensive excellence — and he has been nothing short of excellent — is more predicated on escorting his man toward help and offering help of his own whenever possible. He's been uniformly terrific and a delight to watch. Oh, and even with Kidd as a starter, Mike Woodson's been able to limit those 39-year-old legs to 25 minutes a game so far. Granted, that could change when the Knicks actually find themselves threatened in a fourth quarter someday.
3. Tyson Chandler. (Last week: 2) Tyson's had strep throat since late last week, so he wasn't operating at his maximum volcanic terror quotient in either of the Philly games. Even then, he deterred plenty of opposing shots, grabbed some rebounds, and did his best to avoid contagion by giving his teammates elbow-fives. On Monday, we saw Chandler step out for a couple jumpers from around the free throw line. There's not a pressing need for one of Earth's most efficient point-blank finishers to spend too much time away from the rim, but if he feels confident about that shot, it can't hurt to mix things up now and then.
4. J.R. Smith. (Last week: 4) J.R. wouldn't be J.R. if he didn't pepper his performance with the occasional egregious shot, but I'm happy to report that the sixth man's play has been mostly sensible and remarkably versatile thus far. Upon subbing into the first unit, he's been content to focus his energy on defense and rebounding (and his towering vertical and strong hands make him a hell of a rebounder when he's in the mood) and to wait for catch-and-shoot opportunities behind the arc. As the first option in a more reserve-heavy unit, Smith has looked more to initiate drive-and-kick offensive possessions. And even if J.R. had a bad first week, he would have compensated for it all with this play on Monday.
5. Raymond Felton. (Last week: 3) Well, I accidentally forgot Raymond the first time around, but he had a pretty nice week. His penetration game has been mostly confined to first quarters (to the point that one wonders if he's getting worn out early), but he's shot well enough and done a fairly solid job of defending over picks. Felton and Chandler still seem to be nailing down the timing on their pick-and-rolls (Felton keeps tossing lobs out of reach), so look for that to develop into more of a weapon with each passing game. Recall that it took Felton and Amar'e Stoudemire a little while to harmonize back in 2010.
6. Ronnie Brewer. (Last week: 7) Brewer's defensive disruption and off-ball offense are progressing nicely as he gets his wind back post-knee surgery. Even if he doesn't always finish, Ronnie can be relied upon to cut through every open baseline avenue in hopes of an easy inside attempt. Meanwhile, Brewer's slow, winding release has connected on five of nine three-pointers so far. Brewer's a historically bad three-point shooter who can't be expected to hold anything close to that kind of percentage, but man, if he could sink even a third of his threes this season, it would open things up quite a bit for the starting unit.
7. Pablo Prigioni. (Last week: 6) Prigioni confessed to being a bit out of sorts to open the season. The 35-year-old rookie threw some uncharacteristically poor, telegraphed passes and seemed reluctant to shoot in his first two games. On Monday, though, he came alive and dictated the pace of the first unit with more typically savvy passing and even a few buckets over Kurt Thomas picks. Pablo's defense is of the sneaking, reaching variety — Mike Breen keeps calling him an "irritant" — which will occasionally lose him a step on his man, but can wreak havoc against a subpar ball-handler.
8. Steve Novak. (Last week: 5) Novak was quiet in both Philly games, and his defense and rebounding haven't matched what we saw in the preseason, but let us not forget the scintillating 17-point, 5-8-from-downtown outing Steve had on opening night against the Heat. That was delicious revenge from the man whose three-point stroke the Heat neutered in last season's playoff series.
9. Kurt Thomas. (Last week: 9) Well, I won my bet that Kurt would commit at least one flagrant foul before this week's rankings. He picked one up Sunday for attempting to enucleate Evan Turner's eyeballs from behind while Turner was attempting a lay-up. Weak. Besides that, Kurt's done a nice job setting screens, passing, and terrifying anyone who dares deny him rebounds. For whatever reasons, his signature mid-range jumpers keep catching front iron.
10. Rasheed Wallace. (Last week: 11) If we were ranking entertainment value, Sheed would be number one on this list by a landslide. Even still, he's looked spry enough in garbage minutes (and actual minutes on Monday night) that it wouldn't be surprising to see him in the rotation and moving up this list by next week. For now, we can cherish this shot and the fact that Wallace currently leads the NBA in Player Efficiency Rating.
11. Chris Copeland. (Last week: 10) For the time being, Cope's not part of Mike Woodson's regular rotation. He did get his first NBA points during garbage time Sunday, though.
12. James White. (Last week: 13) Since White probably isn't going to be playing much anytime soon, I think we ought to celebrate his off-court exploits. This week, we tip our hats to James for founding the city of Knoxville, Tennessee, a couple hundred years ago. Well done, James. Sorry, General James.
Injured: Marcus Camby, Amar'e Stoudemire, Iman Shumpert