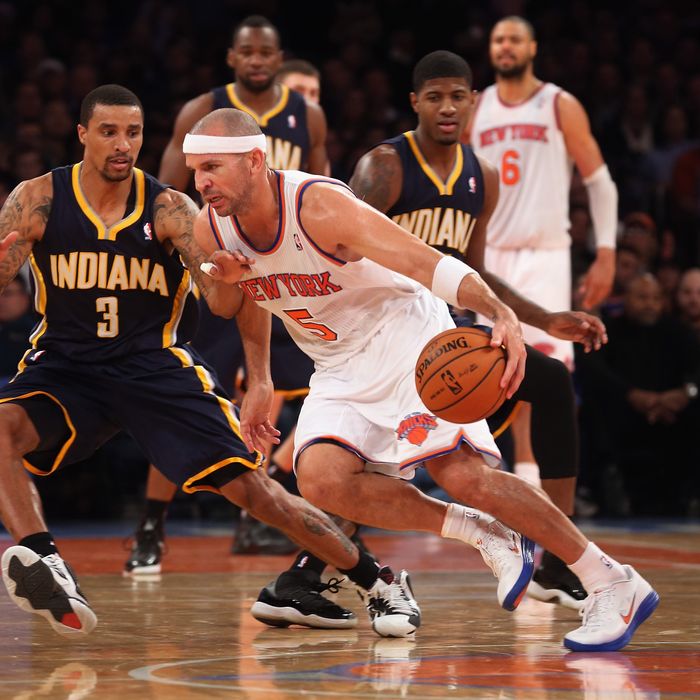 New York's main problem this week was hideous headband fashions.
Each week throughout the year, we'll track the highs, lows, ins, and outs of Mike Woodson's ever-evolving rotation. Come with us for this edition of the Knicks Power Rankings.
1. Carmelo Anthony. (Last week: 1) Anthony's nine-point line against the Spurs was perhaps aggravating to his fantasy owners (twelve rebounds, though), but absolutely rapturous for those of us who want Melo and his team to succeed. Gregg Popovich focused his entire defense on Anthony, firing defenders of all shapes and sizes at him, often two or three at a time. The expectation there is that, as long you don't go too overboard and remember to rebound, you can force Anthony into forcing bad, off-balance shots that lead to empty possessions. No such luck. Melo staved off the swarming defense for twelve shot attempts (only three of which fell), but upon realizing it was — by design — simply not going to be his night, he punished San Antonio for getting all up in his business. The three-assist line belies an evening filled with passing out of the post and on the move that fed all sorts of ball movement and open shots for teammates. His distribution out of crowds was crucial to New York's shocking comeback in San Antonio, and we haven't even mentioned his contributions on defense and on the boards. That game was the most extreme example of how Melo's been performing through eight games: When single-covered, he'll attack and do a fine job of it. When doubled, he'll pass and do a fine job of that, too. And all the while, he's been punishing his body in tussles below the rim with much stronger players. He did an admirable job — even in a loss — of battling the massive Marc Gasol in Memphis, then successfully wrestled David West on Sunday. He's dismantling mismatches on one end and doing his darnedest to negate them on the other. It's been so, so pleasant to behold.
2. Raymond Felton. (Last week: 5) Felton has his flaws, and he was quite bad in the interim between New York stints, but the last few weeks have been a wonderful reminder — at least for me — of what a joy it is to watch Felton play his best. This past week saw him reacting smartly to a defensive approach against him that's becoming typical. Opposing guards routinely drop under picks knowing that he's a below-average shooter. After that threw him off a bit against Orlando the previous week, Felton did a much better job of probing every inch of the space he was granted, then changing pace and direction brilliantly. That relentless approach helped him pilot several crucial runs, including the one that nearly got New York back into that Memphis game. Felton's insistence on breaking down the defense even as they retreat is key to New York's one-five pick-and-roll remaining a valuable weapon (well, that or a sudden expertise at pull-jumpers).
3. Tyson Chandler. (Last week: 3) Chandler had his ills against that monstrous Memphis front line, but he had his best game so far against Indiana, completely handcuffing a dejected Roy Hibbert, and his best play so far to violently seal the victory in San Antonio. He and Felton are juuuust starting to show some reliable chemistry on alley-oops after a few embarrassing failed lobs to open the season (and I'm aware that clip I linked wasn't an actual lob. It just made me think of that, okay? No need to shout).
4. Jason Kidd. (Last week: 4) Kidd's week was effective yet unremarkable, save for three things: (1) His individual three-point barrage to bring the Knicks back in San Antonio. (2) His terrific help defense against the Pacers. (3) The pair of free throws he hit against Indiana despite looking like this. (Back story: Kidd got Lance Stephenson to bite on one of his signature perimeter pump fakes, only to have Stephenson quite literally bite him on his head. The askew headband was appropriated as a temporary wound dressing, even after Kidd got stitches.)
5. J.R. Smith. (Last week: 2) J.R. didn't play quite as pivotal a role in New York's wins this week as he did the previous week, but he was solid enough. One trend that I love so very much: Smith's rebound rate is near the top of the league among guards who play ten or more minutes per game. He's doing a consistently useful job of crashing the glass. It's necessary for a team that features a lot of small lineups, and it's actually really fun to watch. He jumps quite high, of course, and has demonstrated some impressively adhesive hands in mid-air.
6. Ronnie Brewer. (Last week: 6) After a bit of a flare-up in his surgically repaired knee, Ronnie's not playing normal starter's minutes (which is fine, considering the presence of the man above him on this list). Thankfully, the knee's not stopping him from creeping along the baseline for a few put-backs and easy finishes each night. He continues to hit a respectable portion of his jumpers, too. Not something to be relied upon, but helpful in a pinch.
7. Rasheed Wallace. (Last week: 7) Confirmed: That whole "Brian Scalabrine role" thing was temporary. Sheed is an important member of the Knicks' rotation, and he finally showed some value this past week. He's good for some post moves and threes (including a scoring explosion during the second quarter in Memphis), a bunch of rebounds, and some solid defense (much, much better than in his first few games) each night. Also: yelling. So very much yelling.
8. Steve Novak. (Last week: 7) After a lot of hype in the offseason and some flashes of legitimacy during the preseason, it's a little disappointing to see Novak offering very little on the defense and rebounding fronts. It's also been alarming to see Novak miss any open threes at all, which he has. The man is still shooting a decent enough 38 percent from downtown, but we're spoiled by the 47 percent mark he hit last year. A quickened release may be contributing to some of those atypically rim-ward attempts.
9. Marcus Camby. (Last week: 10) Camby was totally out of the rotation for a moment there, but finally got decent minutes against Indiana. It was nice to see the guy grab some offensive rebounds and dive on the floor a few times without crumbling into seven feet of man-dust.
10. Pablo Prigioni. (Last week: 8) Pablo is lovable as hell, but a bit aggravating to watch when he enters the game terribly reluctant to shoot, only to overcompensate and take bad shots when someone yells at him. One issue is that he's rarely on the floor with the Knicks' best pick-and-roll threats, though we did see one terrific spark of chemistry with Wallace on Sunday.
11. Kurt Thomas. (Last week: 11) Aside from ten emergency minutes in Memphis, Kurt hasn't been playing. He's now relegated to hunkering on the bench, searing holes in referees' necks with a mere stare.
12. Chris Copeland. (Last week: 12) Chris has demonstrated an impressive knack for volume in very limited minutes. He has attempted ten field goals in twelves minutes of career playing time.
13. James White. (Last week: 13) This week, we celebrate James's six appearances in the snooker World Championship and bemoan his defeat in all six championships.
Injured: Amar'e Stoudemire, Iman Shumpert