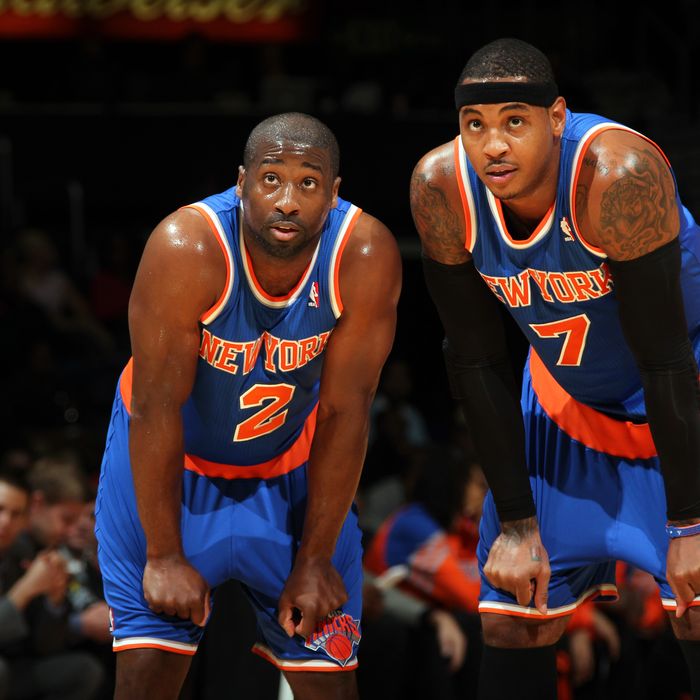 Raymond Felton and Carmelo Anthony are some people on the Knicks.
Starting Tuesday, we'll be tracking and appraising Mike Woodson's Knicks rotation on a weekly basis. For now, let's take one last look before the rotatin' begins.
1. Carmelo Anthony. This was already going to be "Melo's year." Thanks to months of team overhaul, he's the undisputed leader of an offense designed by a coach he likes. Instead of multiple surgeries and a lockout, Anthony got himself a gold medal and a full, healthy training camp this off-season. The major remaining obstacle perceived for Melo was the need to find harmony and equity with Amar'e Stoudemire. Well, now that's not going to be a thing for at least a month or two. For the time being, the ball is Melo's, and it'll probably be his closer to the basket as he spends more time playing power forward, which some people and many numbers would argue is his natural position. Before last season, we were all like, "Okay, now Melo really has to get his act together and score efficiently, but also share the ball, rebound, defend, etc." This time, the man's got trustier point guards by his side, so he won't be relied upon to distribute. Still, the Knicks will be best if Melo offers more than just points, and the table is set for him to be exactly that dominant. The font of excuses has run dry. (Yeah, I'm pretty sure every season begins with me pounding my fist and declaring "NO EXCUSES!" but this time I mean it. I swear.)
2. Tyson Chandler. I was going to put Chandler below Raymond Felton, but then I remembered thinking, Well, if that's serious, the season just ended when Chandler crumpled to the floor in pain during last week's exhibition versus the Nets. Thankfully, it was just a bruise (and not in the way that Amar'e Stoudemire's knee injury was "just a bruise"), and Chandler will be ready to go — if maybe a little lame — for the season opener. If this team is anything like last year's, it'll be a defense-first outfit. Chandler is the keystone of that defense. He is indispensable.
3. Raymond Felton. Welcome back to the Rankings, little doggy! Outside of Melo and J.R. Smith, not many guys on this roster can create their own shot opportunities. Felton can, which is terrific, but his main task is to put everyone else in position to score. That means hitting Tyson Chandler with lobs, rewarding Ronnie Brewer for baseline cuts, finding Kurt Thomas and Marcus Camby in their respective mid-range sweet spots, and feeding Steve Novak at every available opportunity. All those guys can score, yet none of them can do it alone. Even with a much-improved point guard rotation, Felton's ability to penetrate and dish is unparalleled on this squad. Melo may be the offense's centerpiece, but much of the pressure is on Felton to make sure the Knicks don't rank seventeenth in offensive efficiency again this season.
4. J.R. Smith. I think of J.R.'s situation as a less dramatic version of Melo's. Smith first needs to get his shooting percentages back up to par. That's the priority. Beyond that, though, the man's got the potential to make a huge difference as a foul-drawer, passer, defender, rebounder, and so forth. We saw flashes of those attributes at the beginning of Smith's Knicks stint, and we actually got a pretty good look at the best possible J.R. in the one exhibition game he played before nursing an ankle injury. Smith will come off the bench, at least to start the season, but will probably play more minutes than one or two Knick starters. J.R. is a crucial cog, which I find wonderful and terrifying.
5. Steve Novak. An offense built upon Melo, interior opportunities, and the pick-and-roll really needs some shooters. The Knicks do not have "some" shooters, but they do have a shooter — singular — better than pretty much everyone on the planet besides New York's own shooting coach. Novak is the floor-stretcher in New York, and he spent the summer adding off-ball jaunts and simple dribble moves to bolster his perimeter game so defenses can't just stretch to blanket him, then leave it at that. Also keep an eye on Novak's rebounding. I'm not totally convinced that Novak can defend even an average player of his size, but he's got enough strength and buttweight™ to box out if so inclined. Any contributions in that regard could kill the (justified) "if he's not shooting, get him off the floor" meme.
6. Pablo Prigioni. I am likely overreacting, but Prigioni played some sensational ball during the preseason. Between those games and what we saw in the Olympics, I feel pretty comfortable declaring New York's second-string-point-guard-if-it-were-up-to-me. Jason Kidd's a bit bigger and wiser, so he'll be the one masquerading as a two-guard when the Knicks play small lineups. Still, at this point in their respective careers, Prigioni looks nimbler, more durable, and every bit as likely to weave a heat-seeking pass to a cutting teammate. He also might be Kidd's equal from the perimeter at this point, and he's definitely more likely to drive when given a lane. If there's any one thing that could get Prigioni in trouble with his coach, it's his tendency to reach for steals on defense. Woodson won't suffer a gamblin' man if his forays are getting him beat off the dribble.
7. Ronnie Brewer. Brewer is healthy, if still not totally in shape, and his mission now is to defend the hell out of the opposition's best wing, then make himself open on the move offensively. If he can hit an open jumper, that's lovely, but the Knicks hopefully won't be depending on him for that. (Oh, and if you've never watched Brewer play before, brace yourself for those first shot attempts. The lasting effects of a childhood injury make his arms work in mysterious ways.)
8. Jason Kidd. Yeah, Kidd's probably going to start at shooting guard on Friday and whenever the Knicks play a small lineup. That might mean guarding Dwyane Wade at times, which … I don't know, I can envision Kidd defending Wade's post-ups competently, but I can also envision him collapsing into a tidy heap of vertebrae if Wade takes him off the dribble. Kidd didn't look bad in preseason, but he didn't look young, either.
9. Kurt Thomas. With Marcus Camby's gameness not entirely clear post-calf injury, Kurt's probably the first big man off the bench and the one to move into the starting lineup when Woodson tires of going small. We're starting the in-season Rankings on Tuesday, so there'll be just three games between now and next week's Rankings. I'm still willing to bet that Thomas will have committed at least one flagrant foul by the time we next convene.
10. Chris Copeland. One can't be sure whether Copeland's preseason excellence will translate into regular season minutes, but I bet he's ahead of Marcus Camby (recovering from a calf injury) and Rasheed Wallace (recovering from two years of retirement/snacking) on the depth chart. If those exhibition games were any indication, Cope should play any and all minutes alongside Prigioni. Those two just click.
11. Rasheed Wallace. He actually appears to be in pretty good shape now, but as far as I know, he has not played a second of full-court, full-speed, five-on-five basketball since, like, this. So, if Wallace spins Friday (and it sounds like he will), he'll be going straight from whatever that was to contesting the NBA Champions. It will be exciting.
12. Marcus Camby. Camby'll be in uniform from Friday on, but he might not be totally ready to compete just yet, so that's why he's down here. Once Camby's healthy, I expect him to play the role of Tyson Chandler–lite, rebounding and defending his way right up these rankings.
13. James White. White's the one guy I'm pretty confident we won't see on the floor soon, but you never know. I'm a little perturbed that we didn't get to see him dunk even once in Summer League, camp, or preseason.
Injured (sigh): Amar'e Stoudemire, Iman Shumpert