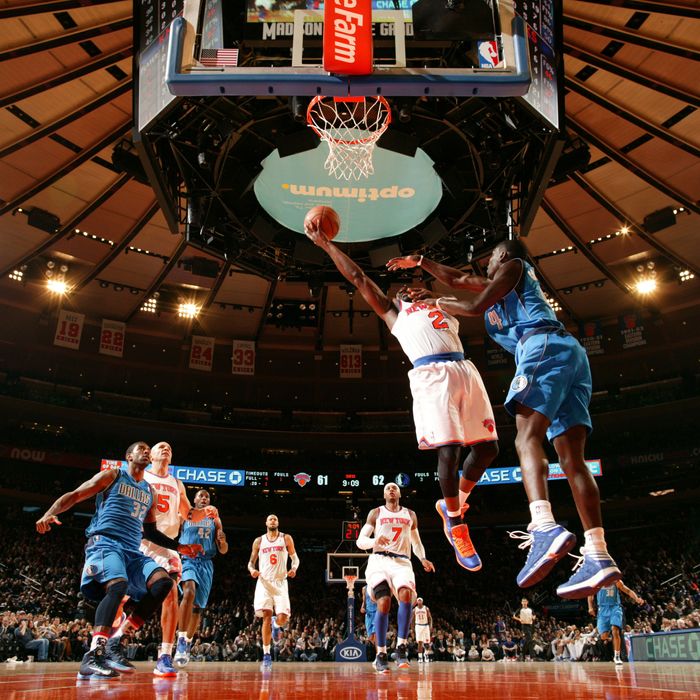 Each week throughout the year, we'll track the highs, lows, ins, and outs of Mike Woodson's ever-evolving rotation. Come with us for this edition of the Knicks Power Rankings.
1. Carmelo Anthony. (Last week: 1) In a weirdly spaced out week of games (so much so that we waited an extra day to do these rankings), the Knicks finally dragged a bit, but still managed to beat the halfway-decent but shorthanded Mavericks and the thoroughly awful and shorthanded Magic by double digits. It certainly wasn't a bad week, just a slightly imperfect one after the previous week set the bar so high. And that was pretty much the case  for Anthony. He played pretty sharp games against the Mavs and Magic — they were just different and not quite as rapturously dynamic as the previous few. In both, Melo was relied upon a bit more to call his own number out of isolation. It wasn't anything untoward, just a bit more jab-stepping and dancing to find himself looks and less bailing out of double teams to start perimeter ball-movement. As long as his jumpers are falling and he's using some of those possessions to approach the rim and draw contact (though he just couldn't get a call in Orlando), there's plenty of room for that offense. One just hopes that he continues to get some touches off kick-outs and pin-downs (the latter has become New York's customary opening play) and continues to pass out of isolation when facing excessive help defense. Melo's own defense hasn't been quite the inspired stuff we saw in the first week, but we knew that wouldn't hold up in full. He's still playing a part on that end and still grabbing the most rebounds. 
2. J.R. Smith. (Last week: 4) J.R. played a big role in the Mavs game and pretty much won the third quarter of the Magic game by himself. His brilliant-play-to-bonehead-play ratio has been delightfully positive. Those prolonged dribble attacks will produce the occasional unseemly attempt, but J.R.'s been mostly able to find the net and cognizant of open kick-out options when they emerge. On top of all that, J.R. continues to wield hands of Shump-like quickness, pokin' and strippin' his way toward the top of the league in steals per game (Jason Kidd's up there, too).
3. Tyson Chandler. (Last week: 3) Simply because of his tendency to help on penetration, Chandler tends to give up a few points when facing big fellows who can score outside the paint. Chris Kaman and Elton Brand got him with a couple short jumpers when he was late to recover on Friday, and Nikola Vucevic did a bit of the same on Tuesday. That's nitpicking, though. Chandler's still the roaming lynchpin of New York's defense and has been his usual self finishing plays above the rim (a couple botched alley-oops last night notwithstanding), fighting for rebounds, and fouling a lot.
4. Jason Kidd. (Last week: 2) Kidd drops only because he played such light minutes in the Dallas game. He's continued to be a binding influence on the floor. The ball-movement and everybody-on-a-string team defense just awaken when Kidd's on the floor. The guy deserves credit for trying very hard — if not always succeeding — to chase guys like O.J. Mayo and J.J. Redick (he specializes in defending dudes who go by their initials) over screens and around the arc. That's not easy for anyone, let alone a 39-year-old.
5. Raymond Felton. (Last week: 5) It was interesting to watch how Felton responded to Orlando's deliberately saggy defense against him. Every time the Knicks ran a one-five pick-and-roll, the opposing guard would duck beneath the pick to help on the roller and leave Felton several feet of space. Ray accepted that invitation and took a team-leading 23 shot attempts, many of them pull-up jumpers. He didn't shoot that poorly (9-23), but poorly enough to illuminate what might be an effective counter to New York's effective pick-and-roll. One hopes that Felton will either: (1) come to expect those openings and hit the jumpers reliably, or (2) exploit that space to get into the paint and draw the defense should that defensive approach be reproduced by other teams.
6. Ronnie Brewer. (Last week: 6) Brewer had to sit most of Tuesday's second half because of swelling in his surgically repaired left knee, so we'll see how that pans out. As of right now, he's probable for Thursday. Before all that, Brewer had maintained his surprisingly useful offense. He sank two of four three-point attempts on Friday and did his best to penetrate off the dribble when teams gave him room (which they did and will continue to do). Meanwhile, one wonders if that knee has been the thing hampering his defensive footwork at times. He definitely hasn't played poorly on that end, but he's gotten beat a few more times than you'd expect from such a dynamic defender. Having missed training camp with a new team may contribute to some rotational lapses, too.
7. Steve Novak. (Last week: 8) After a promising preseason and first game of the regular season, Steve and the Knicks have once again been struggling to find open three-point opportunities. And even when the opportunities have been there (as they were in the first half against Dallas) Novak's been off the mark. This ought to be a point of emphasis, because it's a real waste to have Novak on the floor not hitting threes. We've already seen how off-ball screens, cuts, and smart ball-movement can help make him effective. At the very least, Novak's presence can be employed as a decoy to keep help defenders off of pick-and-rolls and Melo isolations. Anything's better than just Steve camping out in the corner, never touching the ball.
8. Pablo Prigioni. (Last week: 7) After justified criticism about his tentativeness and excessive deference, Prigioni came out looking to attack and score on Tuesday. Despite making a couple buckets, he played just seven minutes. It seems like Mike Woodson sort of falls in and out of love with the guy from night to night.
9. Rasheed Wallace. (Last week: 10) Well, this seems to be a thing. Last week, we were all giggly over Sheed's garbage time hijinks and small-sampled league-leading PER. Since then, he's actually become part of the rotation, playing double-digit minutes in each of this past week's games. He posted great rebounding numbers against the Mavericks, but was otherwise pretty frustrating to watch in both games. He frequently stopped ball-movement to pull from downtown (where he was 0-9 in those two games) and, especially against the Magic, routinely got caught snoozing when he was expected to help with penetration. I understand that Marcus Camby is working his way back and Kurt Thomas hasn't been terrific, but Woodson's reliance on Wallace still does not compute. Then again, as always, Sheed can always be counted on to mix some wonderful moments in with his sluggish play.
10. Marcus Camby. (Last week: Injured) Camby's playing now, but it's just been a brief stint here and there, and he's done next to nothing in those short spins. With luck, he'll work back into game shape and start absorbing some of the too-many minutes Sheed's been getting.
11. Kurt Thomas. (Last week: 9) Kurt was underwhelming but intermittently useful in the season's first week, but now he's out of the rotation thanks to Woodson's affinity for Wallace.
12. Chris Copeland. (Last week: 11) Not to pile on the Wallace thing too much, but if the backup big man is just gonna chuck threes and play lazy defense, why not let Copeland do it? He'd at least hit some of those threes.
13. James White. (Last week: 12) This week, we applaud James for his excellence in geography.
Injured: Amar'e Stoudemire, Iman Shumpert