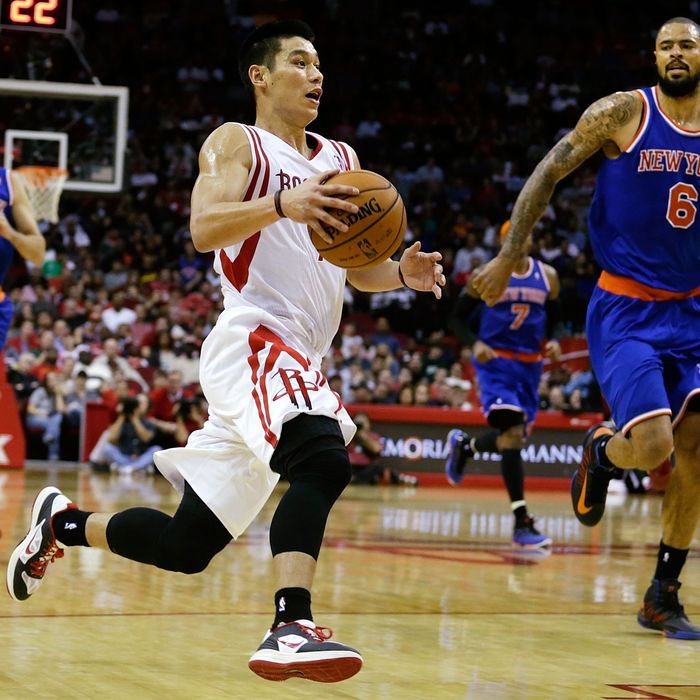 The Knicks got embarrassed by Jeremy Lin's Rockets.
Each week throughout the year, we'll track the highs, lows, ins, and outs of Mike Woodson's ever-evolving rotation. Come with us for this edition of the Knicks Power Rankings.
1. Carmelo Anthony. (Last week: 1) Well, the Knicks have kinda crashed. It could certainly be worse, but the humming offense and cohesive defense we saw through the first half-dozen or so games have regressed mightily. They're 2-3 since we last spoke, taking care of bad teams like the Hornets and Pistons, but falling short in Dallas and Brooklyn and getting humiliated in Houston. At least Melo's been pretty sharp. He's still chewing up individual defenders big and small, still passing niftily out of double teams with only occasional spurts of isolationism, and still making an effort on the glass. He, like pretty much every other Knick, has fallen off slightly, though. To begin with, turning the ball over twenty times over three of this week's games is less than ideal and perhaps symptomatic of some fatigue. Additionally, Melo's defense as the de facto power forward (excluding stretches of Monday night's game), which was outstanding to open the year, has fallen off a bit. He's one of several Knicks chronically helping at the wrong times and getting beat backdoor (also this). And finally, since Melo carries a reputation as a "closer," it must be noted that he failed to do so twice this past week. Some of the blame goes on Mike Woodson for running plain, predictable closing sets out of timeouts, but had Melo finished those isolated game-winning attempts in Dallas and Brooklyn, the Knicks could be 11-2 right now.
2. Jason Kidd. (Last week: 4) As Tyson Chandler did a couple of times last season, Kidd gets a high ranking this week not only for his solid play but for the void left in his injury-related absence. I've actually grown a little irritated with Kidd's tendency to sag off shooters to play help defense, but that's a teamwide issue. That aside, we got a look Monday night at how New York's ball movement suffers without Kidd governing from the perimeter. Kidd's usually the one to insist upon working the ball around the perimeter if he detects stagnation, he rarely commits turnovers, and he's been both a productive recipient and willing provider of extra passes for open threes. Melo's kicks out of double teams didn't always find a happy home without Kidd to redirect them. And for all the baskets Kidd gives up by helping, he's good for plenty of forced turnovers — eleven steals in his last four games — as well, which the Knicks really could have used against the Nets. Because of back spasms, Kidd didn't travel with the team to Milwaukee for Wednesday night's game. Let us pray this isn't a long-term thing.
3. Raymond Felton. (Last week: 2) It's hard right now to look back past the cataclysmic shooting night in Brooklyn (3-19!). Missing layups is forgivable, but repeatedly accepting invitations to fling off-balance twenty-footers is something else entirely. I will confess to a sick admiration for Felton's utter disregard for context, but that performance was unmistakably awful. Felton ended the Ranking week so poorly that it's tough to recall previous a pretty solid previous four games, including a couple of excellent shooting nights and some terrific high pick-and-roll work with Tyson Chandler.
4. Tyson Chandler. (Last week: 4) Chandler had himself a couple of truly dominant offensive games this week — 21 points on nine shots in Dallas, then 28 points on thirteen shots in Brooklyn — but continued a trend of eerily helpless interior defense. It's been baffling to watch 2011–2012 Defensive Player of the Year plant his feet and swipe passively while a penetrating guard glides to the rim. Is his knee still hurt? Is he wary of foul trouble? Is he at odds with his teammates? Is it somehow our fault? Is this because I didn't pick up that napkin I dropped on the sidewalk the other night? If so, I'm sorry, Tyson. I'll throw every one of my possessions in the recycling bin if it means you'll get back to defending like yourself.
5. Ronnie Brewer. (Last week: 6) Brewer's settled into reserve minutes without even leaving the starting unit, and he'll now be playing with a sore left finger (it got dislocated on Monday night) to go with his sore left knee. Perhaps because of the knee, we haven't seen Brewer really lock a wing player down just yet (though he did a decent enough job on Joe Johnson), and he's one of those getting stranded occasionally in the Knicks' switch-heavy defense.
6. J.R. Smith. (Last week: 5) Smith played an excellent game against the Pistons and generally maintained his commitment to contributing on the defensive glass. His amazing early season shooting percentages have plummeted, though, and he's getting beat backdoor far more often than he was a few weeks ago.
7. Rasheed Wallace. (Last week: 7) Sheed is ever the mixed bag, particularly on offense. One night, he makes three-pointers in rhythm and posts up for a few of those signature fading turn-arounds. The next, he bricks threes from a standstill and tosses up careless shots from the block. There's a pretty fine line between the two Sheeds, too, and it's a little scary how much his play can affect the Knicks on a given night.
8. Steve Novak. (Last week: 8) He spent most of the week unable to get open on offense and too slow to stop anybody on defense, but let us cherish that Detroit game, in which Steve drilled five of seven three-pointers, reminding us he can still do that.
9. Pablo Prigioni. (Last week: 10) I've said this elsewhere, but there only needs to be one line on Pablo's scouting report right now: "He is going to try to steal your inbound passes." The man's got a fetish for thievery off made baskets. Otherwise, he's been steady, but not especially productive in a dozen or so minutes per game.
10. Kurt Thomas. (Last week: 11) Mike Woodson's big man rotation is pretty bizarre. Thomas went from being a DNP-CD on Sunday to starting … but playing just seven minutes on Monday …
11. Marcus Camby. (Last week: 9) … and Camby sat in Dallas and Houston whilst the Knicks got overwhelmed on the defensive glass, then spun for just five minutes in each of the back-to-back games. Granted, the way Camby got bullied by Reggie Evans on Monday suggests that Camby might, indeed, not be in the right shape to be getting regular minutes.
12. James White. (Last week: 13) We finally got to watch White do what he does best in garbage time of that Hornets game. That was almost as good as the time he sported a cowboy hat, discovered the Carlsbad Caverns, and mined guano.
13. Chris Copeland. (Last week: 12) Copeland's remarkable volume in short garbage time stints continues: eleven shots in seventeen minutes this past week.
Injured: Amar'e Stoudemire, Iman Shumpert