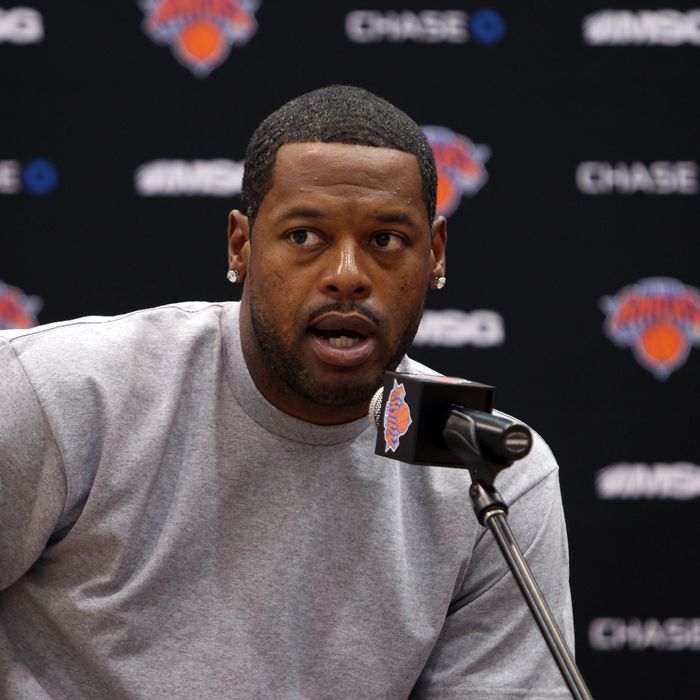 One of the common follow-ups to the oft-heard "Wow, the Knicks have been playing really well" is "Wow, the Knicks have been playing really well without several key players." Two of those key players — Amar'e Stoudemire and Iman Shumpert — won't be back for a while, and how the rotation will change to absorb those two (Amar'e in particular, obviously) is a conversation for another day. For now, it's time to welcome Marcus Camby back into the fold. He's been missing in action for the Knicks since bruising his hip last decade.
(That's a joke, by the way. Camby missed much of 2001-2002, his final season with the Knicks, after bruising his hip in February. He's since played for the Nuggets, Clippers, Blazers, and Rockets, only to be reacquired by New York this summer, ten years after they traded him … only to strain his calf and miss all of the preseason and the first three regular-season games).
Camby, who was added for his decent interior defense and elite rebounding ability, is expected to finally take the floor for New York on Friday after participating in team scrimmages this week. He's happy about that, and so are Knicks fans. For all New York's excellence through three games, they've merely done an okay job of rebounding, so Camby's immediate utility is evident. He also gives Mike Woodson the ability to stick with a sizable lineup even when Tyson Chandler is off the floor. He's a real, live seven-footer who makes sense in a frontcourt alongside Carmelo Anthony, Kurt Thomas, or Rasheed Wallace, and possibly even in a sort of "twin tower" tandem with Chandler.
If Camby proves healthy and capable, his minutes will probably be diverted from the playing time of both Thomas and Wallace, the latter of whom actually got to spin before the game was totally decided on Monday in Philadelphia. I suppose the nice part of having old, big men in triplicate is that you can just go with whoever's feeling least old at the moment. Assuming equal health, Camby projects to be the most effective of the three, but he'll have to prove that starting Friday night against the Mavs.
So, indeed, the NBA's only undefeated team is about to add what should be another solid contributor. This success continues to feel pretty bizarre, to the point that I'm semi-expecting Camby to somehow ruin everything.