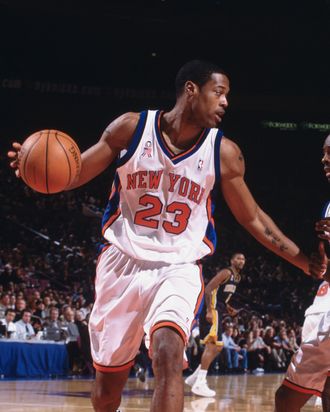 Yesterday, Seth ran down just what the Knicks are expecting out of Marcus Camby when he returns to the floor tonight, when they play the Dallas Mavericks in their only game over a seven-day span. (Seriously, we're starting to forget what the Knicks look like.) But we thought we'd take a look at the last game Camby played for the Knicks. It was a very long time ago.
It was, in fact, 3,935 days ago, on February 1, 2002. The Knicks played at Conseco Fieldhouse against the Indiana Pacers. They lost to Indiana 92-87, beginning a stretch in which they would lose ten of their last twelve. This was right after Jeff Van Gundy, seeing the proverbial writing on the proverbial whiteboard, had high-tailed it out of town, with Don Chaney taking over to suffer an ugly 20–43 record the rest of the way.
The Knicks had already lost eight in a row and left Indiana with an 18–26 record. They wouldn't have another winning season until 2010–11. The opposing coach that day was a man named Isiah Thomas, who would "lead" the Pacers to a 42–40 record that season. He would last one more season in Indiana before being pushed out. The Knicks gleefully snatched him up, knowing he would lead them back out of the wilderness.
Camby's fellow starters in the game: Latrell Sprewell, Allan Houston, Mark Jackson, and Kurt Thomas. Clarence Weatherspoon, Shandon Anderson, Othella Harrington, and Charlie Ward would come off the bench. (Opposing Pacers: Reggie Miller, Jalen Rose, and future Knick Jonathan Bender.) Six minutes into the game, Camby fell and banged his hip, a hip that had been injured the year before. He would not return to the game and, in fact, wouldn't play for the Knicks again. At the next draft, the Knicks traded him, Mark Jackson, and the draft pick that would become Nene for Antonio McDyess (who would famously play eighteen games for the Knicks) and second-round pick Frank Williams (an Illinois alum who last year was a fugitive on drug charges). Few remember this now, but Camby was angry at the Knicks for misdiagnosing his injury, forcing him to miss the beginning of the next season because of surgery.
Camby has since played for Denver, the L.A. Clippers, Portland, and Houston. Now he's back and just as likely to hurt that hip in the shower. Welcome back, Camby. The Knicks promise not to trade you for Antonio McDyess and Frank Williams again.