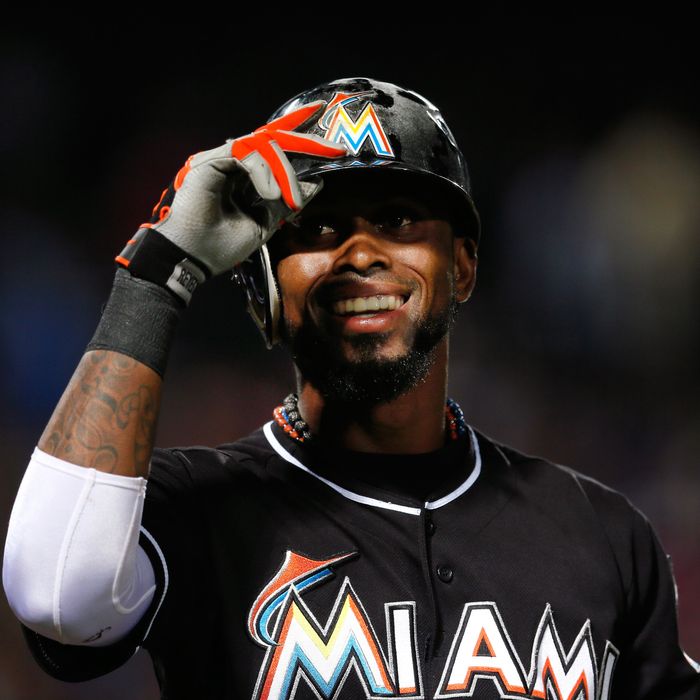 It was one thing when the Marlins would assemble a team of stars, win a World Series, then disassmble it in a fire sale. But now they're at it again, without having won a damn thing. You'll recall that last year, the Marlins made a big splash (sorry) on the free agent market, coinciding with the opening of their new Miami ballpark. They had a payroll of $118 million at the start of last season, seventh highest in the majors. But they finished the season with just 69 wins, fired their controversial manager, Ozzie Guillen, and now are shedding payroll: Less than eight months after Opening Day, they've agreed to send Jose Reyes, Josh Johnson, Mark Buehrle, John Buck, and Emilio Bonifacio to Toronto as part of a megadeal that still has to be signed off on by Major League Baseball.
Marlins fans — they exist, right? — should be furious. And so should the remaining Marlins players. (Tweeted Giancarlo Stanton after news of the trade broke: "Alright, I'm pissed off!!! Plain & Simple.") And the outrage doesn't need to be limited to those with a connection to Miami; we direct your attention to Jason Fry's take over at Faith and Fear in Flushing. It's titled, "The Marlins Are the Worse Collective Entity Ever."
Yes, this trade sets them up to be aggressive on the free agent market now and in the future, if they so choose, so it's at least possible they've got some sort of grand plan here. But the Marlins don't deserve the benefit of the doubt, even if Loria's only presided over one of their two previous fire sales.
Remember the story of how Loria won over Reyes by strolling into the Hotel Carlyle the minute Reyes became a free agent, removing his overcoat to unveil the not-yet-released Miami Marlins jersey with Reyes's name on the back, and then making his pitch? That was Loria on November 3, 2011. This is Loria now, basically:
After he signed with the Marlins, Reyes said the Mets never made him an offer. "They didn't want me," the shortstop said of the Mets at the time. Well, now the Marlins don't want him either — nor do they want anyone else who's making any kind of real money. The Miami Marlins, everybody.