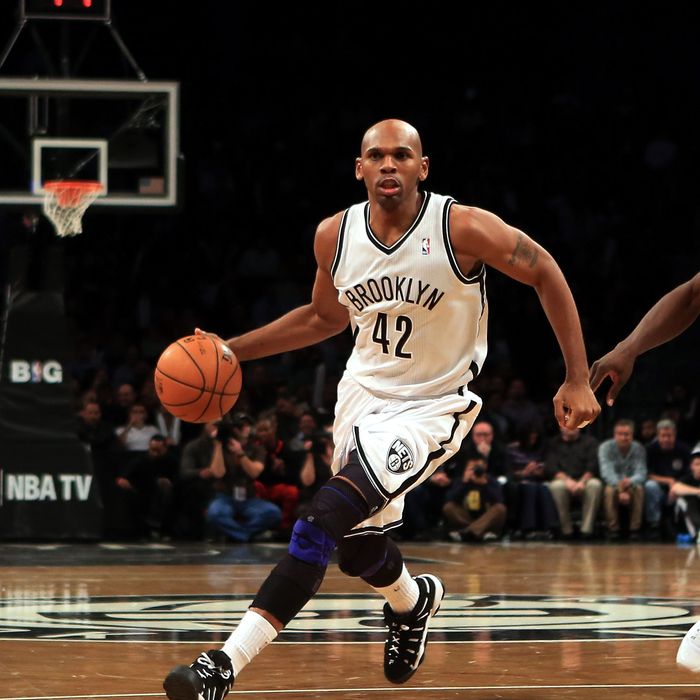 We're a two-team city now, and we cannot subsist on Seth's Knicks Power Rankings alone. Thus, today, we introduce Nets Power Rankings, written by the excellent Devin Kharpertian from The Brooklyn Game. Enjoy.
1. Deron Williams. Taking a leaf from Marc Stein's Power Rankings book: The automatic No. 1 goes to last year's champion/the reason this entire team exists in the first place. He hasn't been the best Brooklyn Nets player to this point, but without his signature on July 11, this team's a complete mess. Avery Johnson gave Williams the game ball for the first game of the season, and said he would've done it no matter what, because without Deron Williams, Brooklyn doesn't matter. That's not to say I'm giving him the No. 1 spot in spite of his production — outside of a shaky outside shot, he's been fantastic, and in the most high-profile Nets game in about a decade, he dished fourteen assists that would make you say all sorts of wows. But no matter his production, D-Will deserves the right to start at the top.
2. Brook Lopez. After re-signing with the Brooklyn Nets for four years and $61.8 million — the maximum he was allowed under the new CBA — critics maligned Lopez as an overpaid stiff who earned his contract merely by circumstance. Through thirteen games, those critics are awfully quiet. Lopez has scored like a maniac against good and poor defenses alike and has done so with a stunning efficiency, shooting 53 percent from the field on fifteen shots per game. He's defending slightly better — though not at "stopper" capacity — and rebounding the ball closer to his "kind of average" first two years than his "fallen off a cliff" last two years. Lopez is a player with significant weaknesses, but he's carried them through backcourt struggles and offensive spells. Without him, the Nets aren't close to 10–4 at this point.
3. Jerry Stackhouse. What, you're surprised that Jerry Stackhouse ranks third? I debated putting him first. How about you chew on some FACTS, nerd?
Jerry Stackhouse currently leads all NBA players with at least 100 minutes played in plus-minus per 48 minutes. The Nets have are +30.8 per 48 when Jerry Stackhouse is on the floor. Second place is Manu Ginobili, at 16.8 per 48 minutes. By this measurement, Stackhouse is nearly twice as good as the second-best player in the NBA.
Jerry Stackhouse has hit nine three-pointers in eleven attempts in the last two games, both against division rivals.
Jerry Stackhouse invented palindromes.
With Jerry Stackhouse on the court, the Nets allow just 85.2 points per 100 possessions, which would rank as the best team defensive rating in the NBA by about ten full points.
Jerry Stackhouse once took down an Ophiotaurus.
In all seriousness, Stackhouse ranks this high because he's playing entirely within his role and killing it. He's kept his game as simple as possible: Help relieve pressure when necessary, hang out in the corner, wait for the defense to inevitably forget about him, and then nail his open corner three. That's what he's done all season. At 38 years old and a +103 in 142 minutes, it's impossible to ask for much more. The Barclays Center's moniker is the Black House, but it's about to be the Stack House.
4. Reggie Evans. VIVA LA BENCH MOB. Reggie Evans may be the most consistent player in NBA history. He brings the same qualities every single night: He'll rove for rebounds, play defense, set screens, and barely score unless he's within two feet of the basket. Like Stackhouse, for his role, he's been impossible to knock. Yes, he got caught flopping twice, and both times were deserved, but you can't teach an old dog new dignity. The Nets are a different team when Reggie's on the floor: He's always barking orders to teammates defensively, covers the many mistakes made by Lopez and Andray Blatche, and fits in neatly around guys who want the ball to shoot it. Oh, and Reggie Evans hit an eighteen-foot jump shot against the Boston Celtics Wednesday night that went completely unnoticed because of the brawl. It was his first made basket outside of eighteen feet since the 2007-08 season.
5. Gerald Wallace. Wallace went down for five games at the beginning of the season with an ankle injury in predictable, apropos fashion: a chasedown block in the waning seconds of a close game that the Nets were just closing out. But he's back, and the Nets missed him dearly. The man they call Crash plays true to his name, haunting offensive players, hitting the deck with reckless abandon, and gambling on enough steals to make me happy the Nets only played one game in Atlantic City. On a team with all these weirdly interlocking pieces, Crash is the glue that keeps it from falling apart. Now if only he could start hitting more threes.
6. Joe Johnson. I'll be honest — I had no idea going into this season that I'd think of ranking Joe Johnson below the top five in the Nets' pecking order, and yet a month in, here we are. Johnson, who the Nets traded for to be their second-best player, has mixed disappearing acts with bad shots on too many occasions in the early going. He's put it together a few times, and carried the Nets in spurts during Wednesday night's Celtics game, but for a player lauded for consistency he's been oddly transient.
7. Kris Humphries. Has seen his minutes limited by Reggie Evans's surge and Rajon Rondo's fists. Playing fine in his limited time, but like Johnson has seen a scaleback in his offensive touches and efficiency. Also tweets pictures of his cut-up shoulders.
8. Andray Blatche. Reading Andray Blatche's game logs is a lesson in basketball rollercoasterism. After an efficient double-double that keyed the Nets' victory over the Celtics, Blatche has now alternated back and forth from double-digit to single-digit scoring for eleven consecutive games. He'll shoot 11-of-12 in a game, do nothing else, and end with a +2. He'll shake two defenders out of their shoes and shoot directly into a third. He'll show enough effort on a pick-and-roll to stir a mouse and block two shots. He'll lose the ball on a pointless behind-the-back dribble, have the ball tapped back to him and drain a twenty-foot fadeaway. There is no show in the NBA quite like the Andray Blatche show, and there is no way to predict what happens next. You can only sit back, terrified, and hope you enjoy the ride this time around.
9. C.J. Watson. Watson was the early Bench Mob darling, but has fallen off lately as his shot's stopped falling and his transition game has become nil.
10. Keith Bogans. Bogans started in Gerald Wallace's absence so the bench rotation didn't get screwed up. That's right — Bogans was so far down the depth chart that it made perfect sense to start him. I love basketball. A few corner threes here and there and some noteworthy defensive efforts, but largely unproductive.
11. Josh Childress. A no-risk signing with little early reward.
12. MarShon Brooks. Brooks was everyone's darling after his rookie season but has fallen into Avery Johnson's doghouse. He doesn't play a lot of defense, and his scoring ways aren't necessary on a team with such a bevy of scorers. While it does seem odd that there's no room for him whatsoever in this rotation, with the way Jerry Stackhouse has played, it makes sense. (I can't believe I just said that sentence in 2012.)
13. Mirza Teletovic. The only player further in Johnson's doghouse than Brooks, the perpetually inactive Teletovic was signed to the mini mid-level exception (three years, $9.68 million) and can't even see a uniform, much less the floor. He's saying all the right things about working hard and making the most of his chances, and Johnson says there will be time later in the season for him to get minutes. But for now, with Reggie Evans, Kris Humphries, and Gerald Wallace all seeing time at the 4, there's just no room for #Fearza. Consider him #Mirzapped.
Devin Kharpertian is the Managing Editor of The Brooklyn Game.