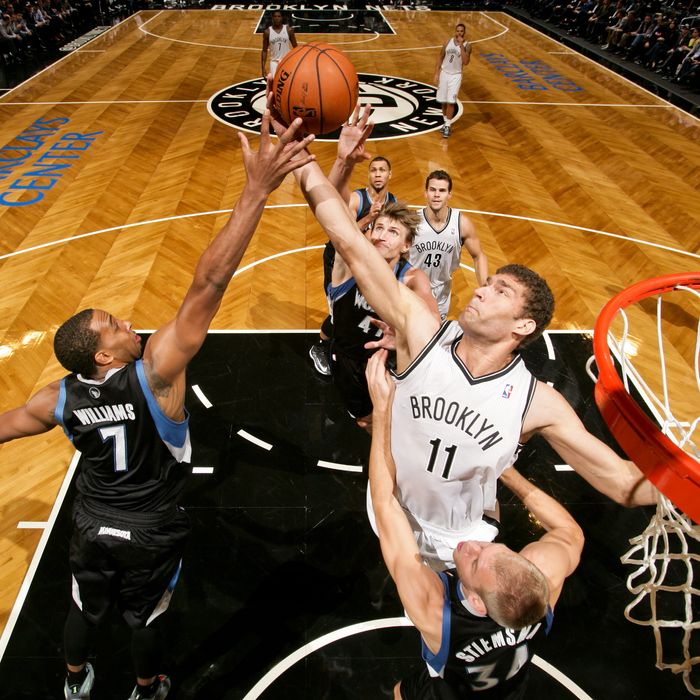 Brook Lopez will be battling Chris Bosh and the Miami slashers this evening.
The Nets have looked okay so far. They took care of the Raptors and, until that massive collapse, were handling the Timberwolves. Now they're in for more of a test as they take a quick trip to Florida to face their teams named after mass nouns, the Heat and Magic (the latter of which has played surprisingly well thus far).
So far, the Nets have played very poorly on defense. Owing especially to a Brook Lopez–Kris Humphries interior that's had trouble stopping folks in the paint, Brooklyn is ranked near-last in defensive efficiency at this extremely early juncture. Now, you know it's early, because tonight's opponent, the Heat, is tied with them, and they figure to end up being one of their better defensive teams in the league. Meanwhile, Miami is 3-1 with that defense because they've been typically effective on offense. So, if there's any hope of that Nets D turning into something more fierce (and there should be), this is a chance to show that.
Meanwhile, the most important defensive task is that of deterring LeBron James. Some bad news came in today when it was announced that Gerald Wallace —starting small forward, as qualified as anyone to check LeBron — would sit out again with a sprained left ankle. Who gets that assignment now? Keith Bogans could take some of it. Joe Johnson probably should as well. Nobody's really built for the job quite like Wallace is, though, so it'll be on the poor soul matched up with James to funnel him toward help, then on Lopez and Humphries to actually provide that help for a change.
Big test. The Nets could prove something, it seems, by even competing in this one.