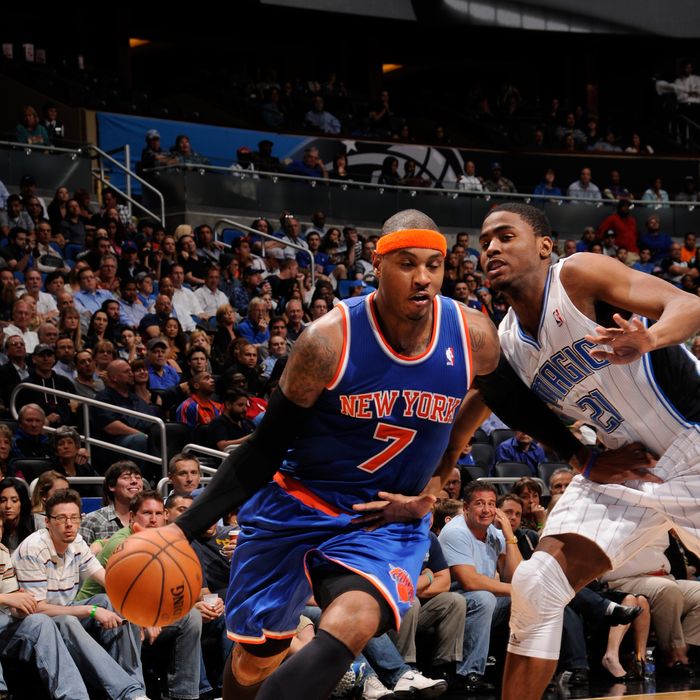 The Knicks are the only undefeated team in the NBA. What a statement that is to make, right? Just typing it feels cool: If the NBA were The Road Warrior, the Knicks would be the rampaging band of pirates, hoarding all the gas, the last survivors. The Knicks haven't lost! They're 5-0! Zero losses at all! Pretty amazing, right? Say that a lot now, all you can, because it's very likely you won't be able to at some point in the next 36 hours.
The Daily News calls the Knicks "untested," but that hardly seems fair: They did, after all, wipe out the defending champs in their opener and have beaten five teams who made the playoffs last season. (Orlando probably shouldn't count there, but bare with us.) Point is, the Knicks' start has been impressive by any possible measure, and it should be celebrated. But the wins are probably gonna stop real soon.
The Knicks face the Spurs in San Antonio tonight and the Grizzlies in Memphis tomorrow, and those games are as tough as any that will be on their schedule all season. The Spurs and the Grizzlies are, essentially, the two hottest teams in the NBA right now. They're a combined 13-2 and have won a combined nine in a row; the Spurs won on the road against the Lakers on Tuesday, and the Grizzlies won on the road against Oklahoma City last night. These teams are not messing around.
In come the Knicks, coming off a deeply unimpressive win over the Magic and a bit hobbling, with Ronnie Brewer missing practice yesterday. The signature ball movement, the thing that has made people believe that this Knicks team might be for real, wasn't there in Orlando, though, to be fair, Epcot can make people woozy for days afterward. The Knicks will have to be perfect once again to have a chance against the Spurs tonight. That's not a slight on the Knicks: It just means that this is a serious leap in competition.
We said earlier this week that if the Knicks went 4-3 on this little two week road trip, their fans should be ecstatic. They're 1-0 so far. If, 36 hours from now,  they're 1-2, there's nothing to worry about. And if they're still undefeated? OK, then you can probably go batty.