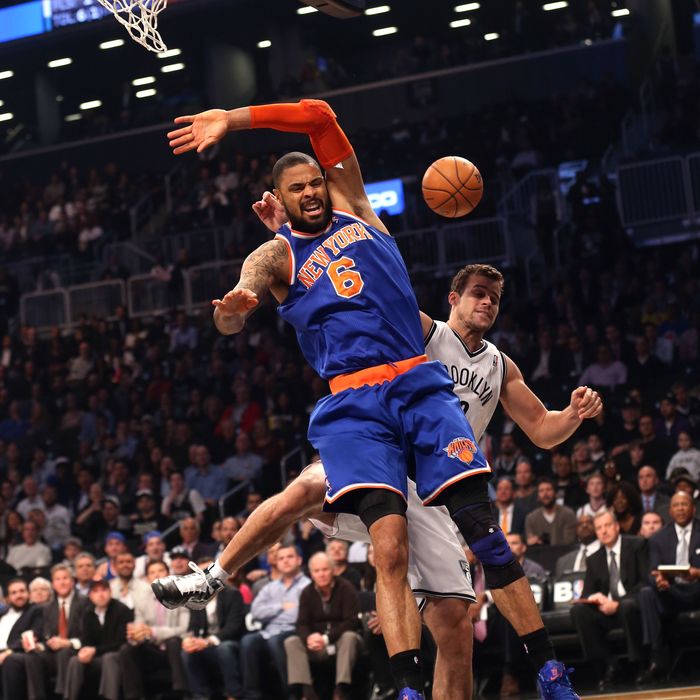 Obviously, last night's Nets-Knicks game at Barclays Center was about much more than just basketball. Here are some random observations about the first night of regular-season professional interborough sports action between Brooklyn and Manhattan teams since the Dodgers played the Giants at the Polo Grounds in September 1957.
•  This is being billed as "the Nets are taking over the city!" this morning, but let's not get carried away. It's one of the signature games at Barclays Center so far this season, with the Nets poised to make as big a statement as they can make, and this crowd was honestly 50-50 throughout. It's rare in sports that you find a crowd that's essentially split down the middle — the Florida-Georgia game in Jacksonville comes to mind (though Georgia tends to have the slight edge there), or the Illinois-Missouri basketball game before Christmas in St. Louis — but that's what this one was. It was legitimately thrilling to witness: Shots from both sides brought roars from the crowd, a rarity in sports.
•  It's worth noting, however, that this was the case last night at Barclays, but it will be nothing like that at all when the Nets visit MSG on December 19 and January 21. The Knicks fans can invade Barclays Center and make it an even atmosphere. We highly doubt Nets fans can do the same. That game, we suspect, will be roughly analogous to when the 76ers come to town or, in a best-case scenario, the Celtics.
•  Knicks fans were actually far more boisterous throughout, and it's of note that when the Knicks' starters were announced, the reaction was loud and Not Quite Boos. When Carmelo, Mr. Brooklyn!, came out, he received the most vocal of all the Not Quite Boos.
•  Media reports this morning noted how the Nets fans were chanting "M-V-P! M-V-P!" at Deron Williams when he was shooting free throws late in overtime. What they don't say is that it was in large part a reaction to those chants for Carmelo from Knicks fans, which happened throughout the night. (It didn't seem to help him shoot free throws, though.)
•  Before the game, Knicks coach Mike Woodson said he had never been to Brooklyn before. This struck many as surprising, but it shouldn't be. Athletes and coaches do so much traveling that any sort of side trip to a borough when they have no need to is simply a waste of time. When we interviewed Nets GM Billy King in Brooklyn around November 2011, he admitted it was only the third or fourth time he'd ever been in Brooklyn either. Athletes don't bother with places that their drivers don't take them directly, for a specific purpose. We bet most Knicks haven't been anywhere other than the Garden, the Upper East Side, and White Plains in months.
•  For that matter: Don't think many Nets players, coaches, and staff are hitting up Mo's Fort Greene either. They get the hell out of dodge, too. By the looks of all the rows of liveries and limos lined up on Flatbush and Atlantic Avenues afterward, they're far from the only ones.
•  The Nets fans are still figuring out their chants, but the typical rules of engagement were out the window on this one. Ideally, the haunting "BROOK-LYN" chant only comes out late, after the Nets have secured a win. (It's essentially a taunt.) But last night, the chant came early and often, and it worked: Having that chant used in moderation except when the Knicks are in town seems like a reasonable exception to us. Besides: It didn't lose anything when the Nets did secure their win and the chant returned. It sounded just right.
•  BrooklyKnight is still terrible and terrifying. He's like Duffman on acid.
•  The biggest bipartisan cheer of the night: When Jay-Z and Beyoncé were shown on the Jumbotron. Something Knicks and Nets fans can all agree on.
•  Other celebs included Richard Gere (who came into the arena wearing a Yankees cap but left wearing a Nets cap), Mayor Bloomberg, and a ton of Giants. Also, Charlie Rose gets a ton of Jumbotron face time at Nets games.
•  The next one of these is December 11, at Barclays. We cannot wait.