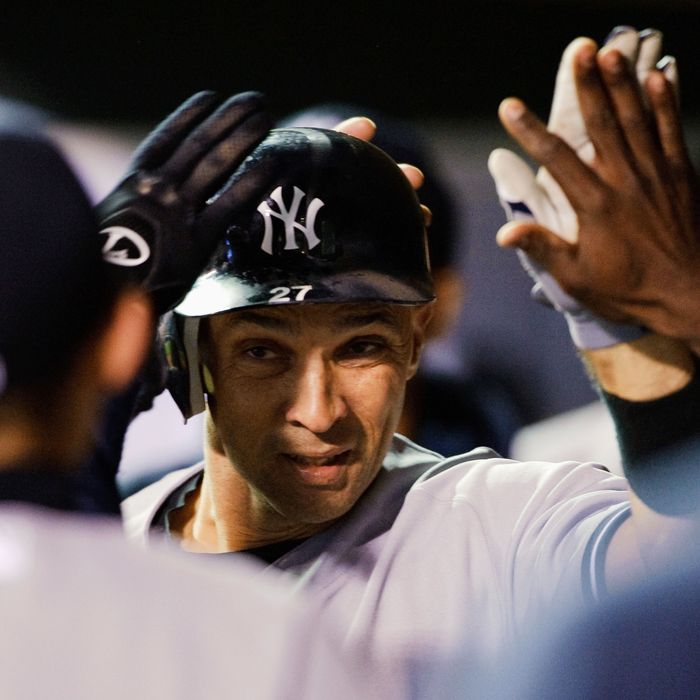 The top of the American League MVP voting table has gotten a lot of attention, with Triple Crown winner Miguel Cabrera winning the award over Mike Trout, despite lots of statistical evidence that the Angels outfielder had a better all-around season. But we instead direct your attention here to the bottom of the balloting results, where Raul Ibanez got an MVP vote.
Specifically, he got one tenth-place vote, good for one point in the award's scoring system. Now look, a tenth place vote for MVP is pretty meaningless. In this case, it had no effect on who won the award. It's little more than a gesture — a way, it would appear in this case, to acknowledge a player for a lesser contribution. And this is no knock on Ibanez: When Brett Gardner got hurt, he was asked to do more than the Yankees would have liked, and performed as well as they could have hoped. He hit for some power against righties (nineteen homers in 360 plate appearances), and his .761 overall OPS was an improvement over the previous year. Factor in that some of those home runs were particularly timely, and Ibanez was fine, all things considered. (Keep in mind, by the way, that voting takes place before the playoffs begins, so Ibanez's dramatic postseason homers had nothing to do with this.)
But it's silly to think he was among the most valuable players in the league. He wasn't even one of the more valuable players on his own team: Ten Yankees had a higher WAR than Ibanez (using Baseball Reference's numbers). Ibanez, meanwhile, posted a 104 OPS+, meaning he was slightly better than average offensively, though keep in mind that he's not good in the field.
This also seems like a good place to mention that John Lowe, the Detroit Free Press writer who voted for Ibanez, didn't include Robinson Cano on his ballot. Let's compare numbers:
Robinson Cano: slash line of .313/.379/.550 with 697 plate appearances in 161 games; OPS+ of 149; 8.2 WAR.
Raul Ibanez: slash line of .240/.308/.453 with 425 plate appearances in 130 games; OPS+ of 104; 0.3 WAR.
We could get into defense, as well, but it hardly seems worth it.
Anyway, the MVP awards are the last to be handed out, so that'll be all for crazy BBWAA voting this fall. See you all when the Hall of Fame results are released!